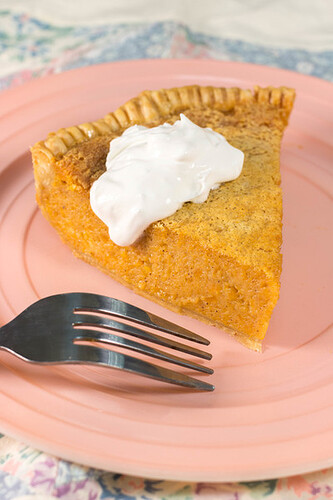 3 cups cooked and mashed sweet potatoes (See note)
2 cups sugar
6 eggs
1 1/2 teaspoon ground cinnamon
1/2 teaspoon grated nutmeg
1/2 teaspoon salt
1/4 pound (1 stick) butter, melted
1 (12-ounce) can evaporated milk
1 1/2 teaspoons vanilla extract
1 9-inch unbaked pie crust
Preheat oven to 350 degrees F.
Combine potatoes, sugar, eggs, and spices in a large mixing bowl or food processor. Mix until smooth. Whisk in the butter, milk, and vanilla. Pour into unbaked pie crust and bake at 350 degrees F for about one hour until the top is lightly browned and the filling is set in the middle.
Cool on a wire rack for 30 minutes before cutting. Serve with a dollop of whipped cream if desired. Refrigerate pie if not using immediately. Bring to room temperature before serving.
Notes
Use a potato masher in a large bowl to manually mash the potatoes, or puree in a blender or food processor. Measure after the potatoes are mashed.
Using fresh potatoes is best - scrub and bake at 350 degrees F for about 1 hour until completely soft, then peel and mash. Or use canned potatoes – you will need 2 cans. Drain and mash, then measure and use 3 cups total.