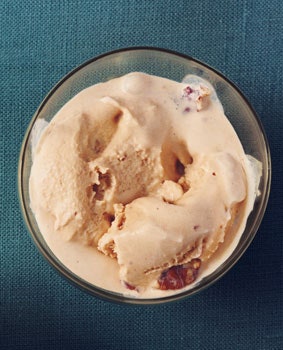 1 tablespoon butter
2 tablespoons packed brown sugar
1 cup chopped pecans
1 can (about 13.4 ounces) dulce de leche (I used Nestle la Lechera brand)
8 ounces fat-free whipped topping, defrosted
1 teaspoon vanilla
Melt butter and brown sugar together in a small pan over low heat. Cook until butter is melted, then add the pecans. Cook over low heat for about 1 minute, stirring constantly. Remove from heat and place on a cookie sheet lined with parchment paper to cool.
Place dulce de leche in a large bowl. Stir to break it up a little. Add vanilla and whipped topping and fold gently until almost combined (there will still be a few swirls of dulce de leche showing). You don't want to over-stir or it won't set up in the freezer. Fold in pecans.
Place in a airtight container and freeze until semi-firm (it won't be as firm as regular ice cream), at least 4 hours or overnight.
Try sprinkling it with a little sea or kosher salt before serving. It's amazing!