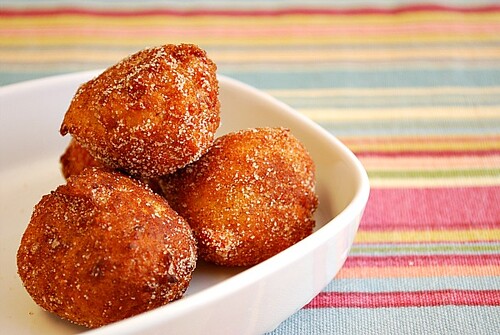 Donuts:
1 egg, beaten
1 cup buttermilk
1/8 cup butter, melted
2 1/2 cups gluten-free all purpose flour mix (I used Bob's Red Mill brand)
1/2 cup sugar
1/2 teaspoon nutmeg
1/4 teaspoon cinnamon
1 teaspoon baking soda
1/2 teaspoon baking powder
1 teaspoon salt
1 teaspoon xanthan gum
Coating:
1/4 cup white sugar
1 tablespoon ground cinnamon
Beat the egg, buttermilk, and melted butter in a 2 cup measuring cup with a fork.
In a separate large bowl, combine dry ingredients. Slowly fold in the wet ingredients, mixing by hand with a wooden spoon until fully incorporated.
Let the dough rest for 15 minutes.
Heat 2-3 inches of canola oil in the bottom of a pot until very hot (375 degrees F).
Using a small scoop, scoop out a few balls of dough and carefully drop each donut in hot oil, being cautious not to splash oil.
Cook until golden brown on both sides (just a few minutes). You will need to cook just a few at a time, but the cooking doesn't take long at all so this goes quickly.
Remove donuts from oil with a slotted spoon or spatula, and place on a plate lined with two layers of paper towel or brown paper to absorb oil.
In a small bowl, combine the sugar and cinnamon for the donut coating.
While still warm, roll each donut in the bowl of cinnamon sugar to coat fully. Alternately, you may omit this step and enjoy plain or dipped in chocolate! Serve while warm.