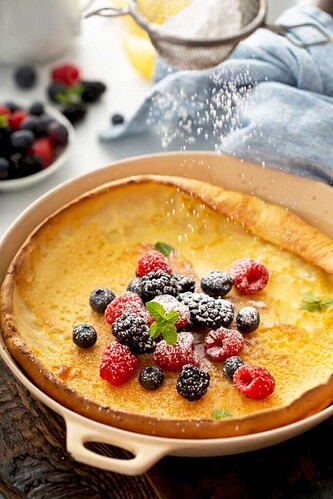 2 large eggs at room temperature
½ cup all-purpose flour
½ cup whole milk at room temperature
3 tablespoons sugar
Pinch of salt
½ teaspoon vanilla extract
3 tablespoons unsalted butter
Toppings (Pick your favorite)
Confectioners' sugar
3 cups mixed berries or other fruit
Jam
Lemon wedges
Preheat the oven to 375 degrees Fahrenheit.
In a blender, combine the eggs, flour, milk, sugar, salt and vanilla and blend until the mixture is smooth. This can also be done by hand.
Place the butter in a 10-inch cast iron skillet or baking dish and place it in the oven, (you can do this on the stove top also). As soon as the butter has melted, take the skillet from the oven (carefully as it will be hot) and add the pancake batter to the pan. Return the skillet to the oven and bake for 20 minutes or until puffed up in the center and golden around the edges. Do not open the oven while baking. Remove from the oven and serve dusted with confectioners' sugar, lemon wedges and berries.