Today's restaurant Secret Recipe is from Eagle Rock Public House, the restaurant outlet for one of Los Angeles' most popular craft breweries. They serve a delicious deep-fried cod sandwich that is topped with a pickled jalapeno slaw and a tangy malt vinegar aioli. At the restaurant they use Eagle Rocks Manifesto Beer for the fish batter but at home you can use your favorite wheat beer such as Blue Moon or Shock Top.
Serve your sandwich with some sweet potato fries on the side by following this recipe from our forum: Here.
Enjoy!
=-=-=-=-=-=-=-=-=-=-=-=-=-=
27,293 people have lost 20 pounds or more ,
Eating all the foods they love. Find Out how: Go Here
=-=-=-=-=-=-=-=-=-=-=-=-=-=
=-=-=-=-=-=-=-=-=-=-=
New Secret Recipe
=-=-=-=-=-=-=-=-=-=-=
Eagle Rock Public House's Fried Cod Sandwich
Like this recipe? Get our Restaurant Secret Recipes – Here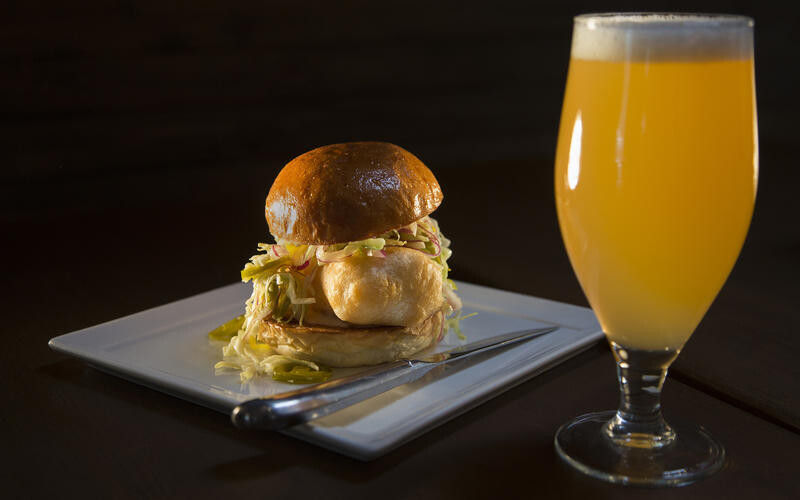 Basic sweet pickled jalapeño:
1 1/4 cups cider vinegar
1 1/4 cups water
1/4 cup salt
1 1/4 cups sugar
1 cup thinly sliced jalapeños (from 2 to 3 large jalapenos)
In a heavy saucepan, combine the vinegar, water, salt and sugar over high heat until it comes to a boil. Remove from heat. Place the jalapeños in a large jar or medium glass bowl and pour over the liquid. Weight the jalapeños down so they stay submerged, and set aside until cool. Cover and refrigerate the submerged jalapeños for at least 12 hours to pickle. The jalapeños will keep for up to 2 weeks, covered and refrigerated.
Pickled jalapeño slaw:
1/2 head green cabbage, julienned
1 red onion, julienned
Strained pickled jalapeños
1/4 cup pickling juice (from the jalapeños)
2 tablespoons distilled white vinegar
2 tablespoons olive oil
Kosher salt
In a large bowl, mix together the julienned cabbage and red onion, along with the strained pickled jalapeños.

In a small bowl, whisk together the pickling juice with the vinegar and olive oil to make a vinaigrette. Pour the vinaigrette over the slaw and season with a few pinches of salt to taste. Mix the slaw well and set aside for at least 10 minutes before using. This makes 6 to 8 cups slaw, possibly more than is needed for the rest of the recipe; the slaw will keep, covered and refrigerated, up to 3 days.
Malt vinegar aioli:
1 whole egg
1 egg yolk
1 teaspoon Dijon mustard
1 tablespoon lemon juice
3 cloves garlic
1/2 tsp kosher Salt
1 to 1 1/2 cups canola oil
1/4 cup malt vinegar
In the bowl of a food processor, combine the egg, yolk, mustard, lemon juice, garlic and kosher salt, blending until homogenous. With the processor running, slowly stream in the oil. As the oil is added, the mayonnaise will begin to emulsify and stiffen. Enough oil has added when the mayonnaise is thick and will form peaks. Stir in the malt vinegar by hand to form the aioli. This makes a generous cup aioli, which will keep, covered and refrigerated, up to 1 week.
Fried cod sandwich:
Peanut or canola oil for deep-frying
1 1/2 cups flour, plus 1 cup for dusting, divided
1 teaspoon baking powder
1 teaspoon kosher salt
1 pint Eagle Rock Brewery Manifesto beer, or similar Belgian-style 'wit-bier' or white ale
3 dashes Tabasco
6 (5-ounce) cod fillets, preferably Ling cod
Malt vinegar aioli
Pickled jalapeño slaw
Toasted challah roll
Fill a 4-quart pot with frying oil to a depth of 3 to 4 inches. Heat the oil to maintain a temperature of 350 degrees.

Meanwhile, in a large bowl, whisk together 1 1/2 cups flour with the baking powder and kosher salt. Whisk in the beer until the batter is smooth, then whisk in the Tabasco. Set aside.

Dredge the cod pieces in the remaining flour, then remove the cod and dip each piece into the batter. Carefully lower each piece into the oil and fry until golden and crispy, about 4 minutes (frying time will vary depending on the thickness of the pieces). Drain on a rack.

Assemble the sandwiches: Spread 1 to 2 tablespoons aioli on each half of the toasted rolls. Top the bottom half of each roll with a piece of fried fish, and top the fish with about 1 cup of loosely packed slaw. Top each sandwich with the remaining roll and serve immediately.
Serves 6
Have a comment or question about this recipe? Post it here
Source: LA Times
Get more secret restaurant recipes on our Secret Recipe Forum: Here
Until Next Time… Be Well!
Kind Regards,
RSN