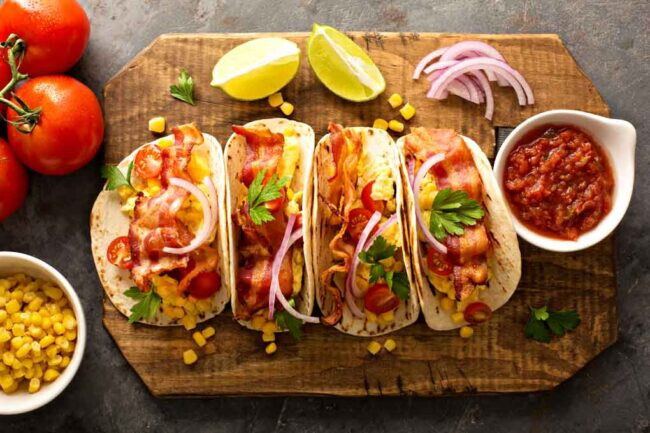 8 slices bacon, chopped into 1 to 1/2 inch pieces
1 1/2 cup frozen breakfast diced potatoes (thawed) *see notes
1/2 teaspoon paprika
Salt and pepper to taste
1 tablespoon butter
8 eggs
Dash of hot sauce (optional)
1/2 cup shredded cheddar cheese
8 taco size flour tortillas, warmed
Optional Toppings
Avocado slices
Salsa
chopped cilantro
chopped onions
sliced pickled jalapenos
Heat a large nonstick skillet over medium high heat. Add the bacon and cook stirring often until browned and crisp, about 5 minutes. Transfer the bacon to a plate lined with paper towels to drain.
Remove all but 1 tablespoon of the bacon drippings from the skillet. Add the potatoes and cook for about 6 minutes or until the potatoes are tender. Season with the paprika and salt and pepper to taste. Remove the potatoes from the skillet.
In a medium bowl, beat the eggs with a generous pinch of salt and pepper and a dash of hot sauce. Wipe out the skillet and melt the butter over medium-low heat. Add the eggs and cook and scramble eggs until set. Stir in cheese and remove from the heat.
To assemble the tacos, layer the tortillas with the potatoes, scrambled eggs and bacon. Top with any additional toppings. Serve warm.