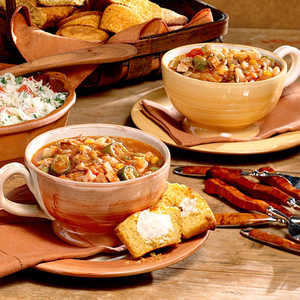 1 large onion, chopped
1 celery rib, chopped
1 large green bell pepper, chopped
1 cup frozen sliced okra, thawed
4 cups frozen cubed hash browns, thawed
3/4 pound barbecued pork, chopped
1 cup chopped cooked chicken
1 (14 1/2-ounce) can diced tomatoes, undrained
1 (15-ounce) can tomato sauce
1 (15 1/4-ounce) can whole kernel corn with red and green peppers, drained
1 (15 1/4-ounce) can lima beans, drained
2 cups chicken broth
1/2 teaspoon salt
1/2 teaspoon pepper
1/4 teaspoon Worcestershire sauce
Combine all ingredients in a 5-quart slow cooker. Cook, covered, at HIGH 6 hours and 30 minutes.
NOTE: For testing purposes only, we used Ore-Ida Southern Style Potatoes adn Texas BBQ Southern Style Pulled Pork Barbeque with sauce.
Southern Living