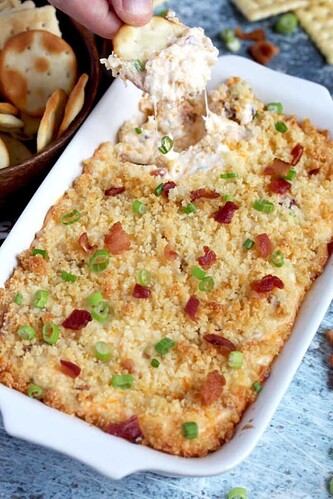 8 ounces cream cheese, softened
8 ounces sour cream
1/2 cup mayonnaise
1 teaspoon garlic powder
1 cup shredded Mozzarella cheese
1 cup shredded Cheddar cheese
1/4 cup green onions, sliced (about 3 green onions)
12 ounces bacon, cooked until crispy and chopped (divided)
For the Topping:
1/3 cup Panko breadcrumbs
1/4 cup Parmesan cheese
2 tablespoon unsalted butter, melted
Preheat the oven to 375 degrees.
Reserve about 1 tablespoons of crispy bacon and some of the sliced scallions to garnish the dip.
To Make the Topping:
In a small bowl, combine the Panko breadcrumbs, Parmesan cheese and melted butter. Set aside.
To Make the Dip:
In a medium size bowl, stir together the cream cheese, sour cream, mayonnaise, garlic powder, mozzarella cheese and cheddar cheese until well combined. Add the bacon and green onions. Stir well.
Pour the dip mixture into a baking dish (2 to 2.5 qt). Sprinkle the crispy topping over the dip. Bake for 20 to 25 minutes until the topping is golden brown and the dip is bubbly.
Garnish with the remaining crispy bacon and green onions. Serve with tortilla chips, pita chips, crackers or bread.