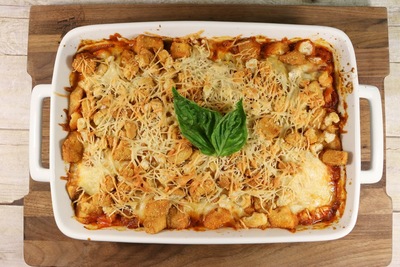 3 large boneless, skinless chicken breasts, cut into 3-inch pieces
1/4 cup extra virgin olive oil
5 cloves garlic, minced
3 tablespoons shredded fresh basil
1 teaspoon Italian seasoning
salt and pepper to taste
24 ounces pasta sauce, jarred or homemade
1 (8-ounce) bag of shredded mozzarella cheese
1 (5-ounce) bag garlic croutons, crushed
1 cup shredded Parmesan cheese
Preheat the oven to 350 degrees F.
Spray a 9x13 inch baking dish with cooking spray. Spread ¼ cup of sauce on the bottom of the dish.
In a large bowl or gallon freezer bag, combine the chicken pieces, olive oil, Italian seasoning, garlic, basil, salt, and pepper. Turn to coat.
Spread about 1/4 cup of the pasta sauce on the bottom of the baking dish. Place the chicken in the dish in an even layer. Top the chicken with the remaining pasta sauce, making sure that all of the chicken is covered. Bake for 30 minutes.
After 30 minutes, remove the chicken from the oven. Top the casserole with mozzarella cheese, crushed croutons, and parmesan cheese. Bake for another 20 minutes or until the top is golden brown.