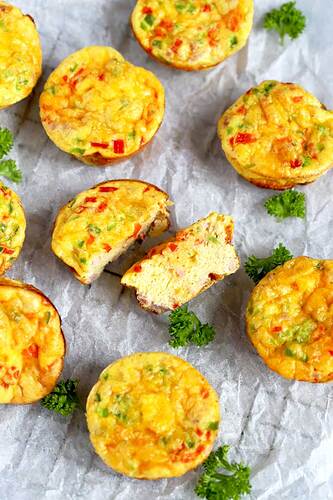 10 Large Eggs
1/3 Cup Half and Half
1 teaspoon salt or to taste
1/4 teaspoon ground black pepper or to taste
1/2 teaspoon garlic powder
1/4 teaspoon ground mustard
1 cup cooked ham diced
1/4 cup red bell pepper diced
1/4 cup green bell pepper diced
1 cup cheddar cheese shredded
Preheat the oven to 350 degrees Fahrenheit.
Spray a 12-cup muffin tin with non-stick cooking spray, set aside.
Crack the eggs into a large mixing bowl.
Whisk in the Half & Half, salt, ground black pepper, garlic powder and ground mustard.
Divide the egg mixture evenly among the muffin cups.
Top each cup evenly with cooked ham, diced red and green bell peppers and cheese.
Bake for 22 to 25 minutes or until the eggs are set.
Serve immediately or store in the refrigerator in an airtight container.