I have some delicious new quick and easy recipes (below) that are loaded flavor. First, I have a secret recipe for eggnog snickerdoodle cookies. These cookies are a tasty treat for the Christmas holidays.
This is only one of over 400 festive cookie recipes featured in the "Christmas Cookie Recipes" cookbook. In this book, you will find an amazing collection of yummy cookie recipes for the holiday season.
Members of our Secret Recipe Cookbook Club will receive this entire cookbook with their membership. If you're interested in joining the club, you can download your first 5 cookbooks right now: Go Here
Or if you'd like to get this title alone, go here.
Enjoy!
=-=-=-=-=-=-=-=-=-=-=-=-=-=-=
Lose Weight While Still Enjoying Your Favorite Restaurants
Try this Water Hack
=-=-=-=-=-=-=-=-=-=-=-=-=-=-=
=-=-=-=-=-=-=-=-=-=-=-=-=-=-=-=-=-=
New Secret Recipe
=-=-=-=-=-=-=-=-=-=-=-=-=-=-=-=-=-=
Eggnog Snickerdoodles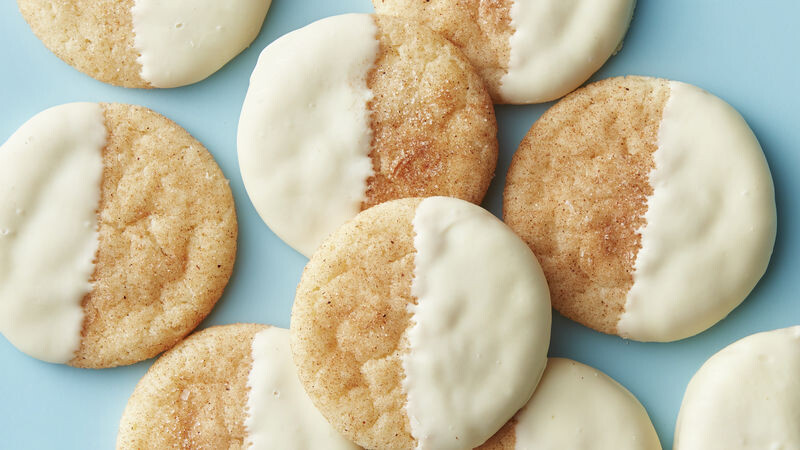 (
Search results for 'christmas cookies' - RSN - Restaurant Recipes | Copycat Restaurant Recipes | Restaurant Menu Recipes
)

2 1/4 cups all-purpose flour
1/4 teaspoon salt
2 teaspoons cream of tartar
1 teaspoon baking soda
1 1/2 cups sugar
1 cup butter, softened
1/2 teaspoon rum extract
1/2 teaspoon brandy extract 2 eggs
1 teaspoon nutmeg
1/4 cup colored (or plain) sugar
Heat oven to 400°F.
In large mixer bowl, combine all cookie ingredients (except 1/4 cup colored or plain sugar and nutmeg). Beat at low speed, scraping bowl often, until well mixed.
Combine the 1/4 cup colored sugar with the nutmeg; set aside.
Shape rounded teaspoonfuls of dough into 1-inch balls; roll in sugar mixture.
Place 2 inches apart on ungreased cookie sheets. Bake for 8 to 10 minutes, or until edges are lightly browned. Remove.
Source – Christmas Cookie Recipes
Enjoy these great quick and easy recipes from our forum:
– Potato Chip Chicken
– Turkey Cheddar Burgers
– One Pan Chicken & Potatoes
Find these recipes and many more: Here