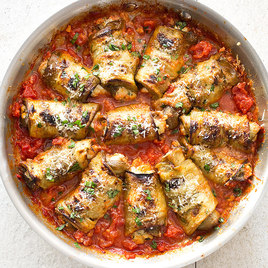 2 large eggplants (1 1/2 pounds each), peeled
6 tablespoons vegetable oil
Kosher salt and pepper
2 garlic cloves, minced
1/4 teaspoon dried oregano
Pinch red pepper flakes
1 (28-ounce) can whole peeled tomatoes, drained with juice reserved, chopped coarse
1 slice hearty white sandwich bread, torn into 1-inch pieces
8 ounces (1 cup) whole-milk ricotta cheese
1 1/2 ounces grated Pecorino Romano cheese (3/4 cup)
1/4 cup plus 1 tablespoon chopped fresh basil
1 tablespoon lemon juice
Slice each eggplant lengthwise into 1/2-inch-thick planks (you should have 12 planks). Trim rounded surface from each end piece so it lies flat.

Adjust 1 oven rack to lower-middle position and second rack 8 inches from broiler element. Heat oven to 375 degrees. Line 2 rimmed baking sheets with parchment paper and spray generously with vegetable oil spray. Arrange eggplant slices in single layer on prepared sheets. Brush 1 side of eggplant slices with 2 1/2 tablespoons oil and sprinkle with 1/2 teaspoon salt and 1/4 teaspoon pepper. Flip eggplant slices and brush with 2 1/2 tablespoons oil and sprinkle with 1/2 teaspoon salt and 1/4 teaspoon pepper. Bake until tender and lightly browned, 30 to 35 minutes, switching and rotating sheets halfway through baking. Let cool for 5 minutes. Using thin spatula, flip each slice over. Heat broiler.

While eggplant cooks, heat remaining 1 tablespoon oil in 12-inch broiler-safe skillet over medium-low heat until just shimmering. Add garlic, oregano, pepper flakes, and 1/2 teaspoon salt and cook, stirring occasionally, until fragrant, about 30 seconds. Stir in tomatoes and their juice. Increase heat to high and bring to simmer. Reduce heat to medium-low and simmer until thickened, about 15 minutes. Cover and set aside.

Pulse bread in food processor until finely ground, 10 to 15 pulses. Combine bread crumbs, ricotta, 1/2 cup Pecorino, 1/4 cup basil, lemon juice, and 1/2 teaspoon salt in medium bowl.

With widest ends of eggplant slices facing you, evenly distribute ricotta mixture on bottom third of each slice. Gently roll up each eggplant slice and place seam side down in tomato sauce.

Bring sauce to simmer over medium heat. Simmer for 5 minutes. Transfer skillet to oven and broil until eggplant is well browned and cheese is heated through, 5 to 10 minutes. Sprinkle with remaining 1/4 cup Pecorino and let stand for 5 minutes. Sprinkle with remaining 1 tablespoon basil and serve.
Cook's Country