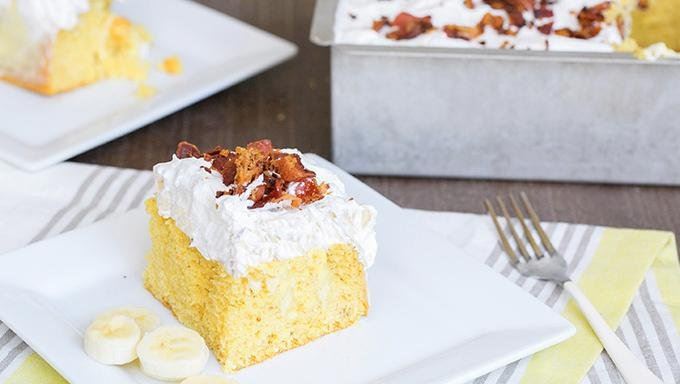 For the cake:
½ cup creamy peanut butter
½ cup (1 stick) butter, softened
4 eggs
1 (18.25 oz.) box Duncan Hines butter golden cake mix
2/3 cup water
Additional ingredients for the cake:
2 cups milk
1 box (3.4 oz.) Jello banana cream instant pudding and pie filling mix
4-5 bananas, peeled and sliced
1 container (8 oz.) Cool Whip, thawed
12-16 oz. bacon, cooked, crumbled and drained
For the glaze:
¼ cup creamy peanut butter
5 tbsp. milk
Preheat oven to 325° F. Spray a 9x13-in. baking pan with cooking spray and set aside.
In a large bowl, cream the ½ cup peanut butter and butter with an electric mixer. Add eggs, one at a time, mixing until just combined. Add half of the cake mix and 1/3 cup of water. Mix until just combined. Add remaining cake mix and remaining 1/3 cup of water; mix until just combined. Pour batter evenly into the prepared baking pan. Bake for 30-35 minutes or until cake tests done. Remove from the oven and with the handle end of a wooden spoon, poke holes all over the cake. There is not a set number of holes, but you will want plenty for the pudding to fill.
In a medium bowl, combine the instant pudding mix and milk. Pour the pudding mixture over the cake, trying to fill the holes the best you can. You may need to use the back of a spoon to help spread the pudding mix and fill the holes. Top with the sliced bananas. Evenly spread the Cool Whip over the cake. Sprinkle the crumbled bacon over the top.
In a small microwave-safe bowl, combine the ¼ cup creamy peanut butter and 5 tbsp. milk. Microwave in 10 seconds intervals until smooth, stirring between each time. Carefully pour the mixture into a small zip-top bag and snip a small piece off one of the corners. Drizzle the peanut butter glaze over the top of the cake.
Cover and refrigerate the cake for at least four hours before serving.
Yield: 18-24 servings