to see the pictures properly - take the screen size down to 50% - I'm still trying to figure out how to post the pics smaller!
There was a 3-pound rib eye roast in the freezer; so I rinsed it off (I wash everything) and placed (frozen) in my 6 1/2-quart crockpot. Drizzled with a bit of olive oil and seasoned with Kosher salt, fresh ground black pepper, garlic, parsley, and onion powder; topped with sliced onions - seasoned the same.
Cooked on HIGH and it was done in 5 1/2 hours.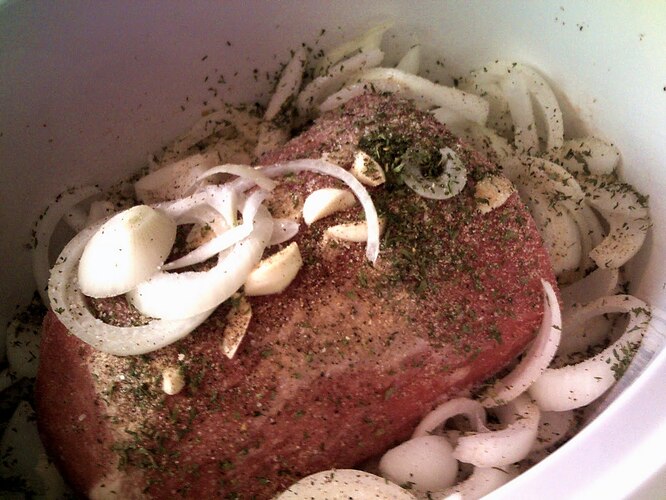 When it was done, I removed it from the crockpot and wrapped to keep warm while I made the onion gravy.
I removed the onions and juices from the crockpot and transferred to a saucepan, added 2 beef bouillon cubes and a couple tablespoons of flour, stirring to cook the flour and allowing the mixture to thicken. Added a couple cups of water and let it simmer to the right consistency.
Meanwhile, I peeled and boiled my potatoes to mash, heated butter beans, and cooked corn on the cob.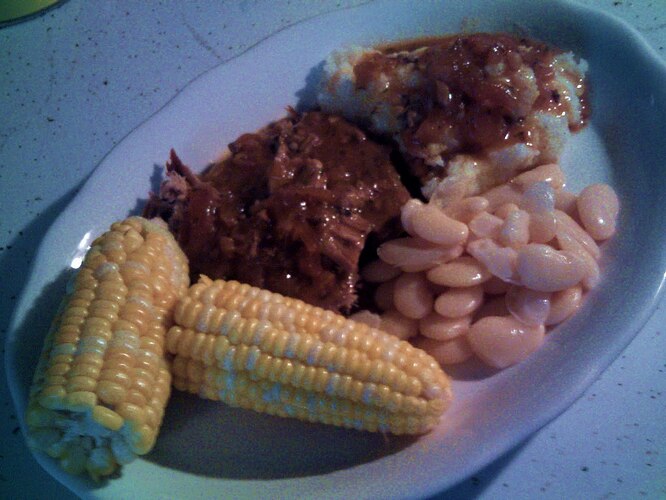 Well worth it! Fork-tender and delicious!
I have quite a bit of the roast left and plenty of gravy - so I will slice the meat tomorrow (it will be easier to slice - it's falling apart!) and freeze it in gravy for a super quick meal - either for sammies or a repeat similar to today's meal.