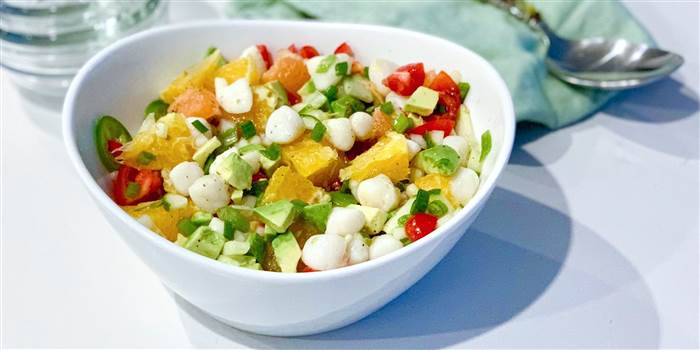 1/2 pound fish of choice, cut into bite-sized pieces (about 3/4 inches)
1/2 cup fresh lime juice (from about 6 to 8 limes)
2 tablespoons finely chopped red onion
4 slices jalapeño
1 orange, segmented; each segment cut into thirds, reserving juice
1 small (or 1/2 large) red/pink grapefruit, segmented; each segment cut into thirds, reserving juice
1 tablespoon extra-virgin olive oil
4 to 6 ripe grape tomatoes, small dice
3 scallions, sliced
1/2 cup finely diced Persian or seedless cucumber
1/4 teaspoon kosher salt, plus more to taste
1/8 teaspoon ground black pepper, more to taste
1/4 teaspoon ground cumin
1/2 avocado, firmly tender, finely diced
Combine fish of choice in a glass or nonreactive bowl with lime juice, onion and jalapeño. Cover and marinate ("cook") for 3 to 4 hours, until the fish is opaque all the way through.
Lift the fish out of lime juice (discard leftover juice) and place fish in a second bowl with the cut-up orange and grapefruit sections plus a tablespoon of each of their juices, olive oil, diced tomato, sliced scallion, cucumber, salt, pepper and cumin, if using. Toss everything together. Season with additional salt and pepper to taste. Then gently fold in the avocado.
Serve in small glasses and garnish with radicchio and optional flatbread or tortilla chips on the side.
Serve with flatbreads, corn tortillas or plantain chips.