Today's Secret Recipe comes from Fresco by Scotto in New York City. Fresco is a popular family-run Tuscan restaurant that serves authentic Italian dishes in a quaint setting.
One of the seasonal dishes on the menu this time of year is a refreshing melon soup served with prosciutto and marscapone cheese. This soup couldn't be easier to prepare and is a wonderful first course to serve with your dinner.
We also have a great selection of soup recipes on our Recipe forum: Go Here
Enjoy!
=-=-=-=-=-=-=-=-=-=-=-=-=-=-=-=-=-=-=-=-=-=-=-=
Secret Fat-Melting Tonic
Discover how this Ancient Japanese Tonic melts 50 pounds of Fat Here
=-=-=-=-=-=-=-=-=-=-=-=-=-=-=-=-=-=-=-=-=-=-=-=
=-=-=-=-=-=-=-=-=-=-=
New Secret Recipe
=-=-=-=-=-=-=-=-=-=-=
Fresco By Scotto's Honeydew Melon and Cantaloupe Soup with Prosciutto
Like this recipe? Check out our Collection of Cookbooks – Here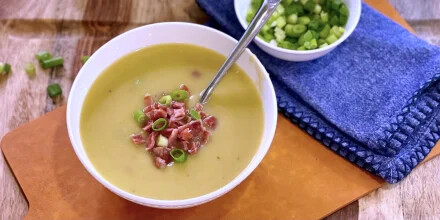 1 honeydew melon, cut in half, seeded, and scooped out, and cut into 1-inch piece, reserving the empty melon halves
2 cantaloupes, cut in half, seeded, and scooped out, and cut into 1-inch pieces reserving the empty cantaloupe halves
Salt and freshly ground black pepper to taste
1 teaspoon granulated sugar or season according to taste
½ cup fresh lemon juice
3 tablespoons port wine
1 cup mascarpone cheese
6 tablespoons Prosciutto di Parma bits (1 tablespoon per serving)
6 fresh mint leaves
Place Prosciutto under broiler and cook until crisp, about 4 to 5 minutes, and then set aside. When cool, dice into small bits.

Place empty cantaloupe and honeydew melon halves in the refrigerator to chill while preparing the soup.

In a blender, combine the honeydew and cantaloupe pieces, 1 teaspoon salt, sugar, lemon juice, and port wine, and process until very smooth. Pour into a large bowl, cover and refrigerate until well chilled, about 3 hours.

Ladle the soup into the chilled melon halves. Garnish each serving with a tablespoon of mascarpone. Sprinkle the prosciutto bits on the mascarpone, top with a grind of pepper and a mint leaf. Serve immediately.
Serves 6
Source: Good Day New York
Get more secret restaurant recipes on our Secret Recipe Forum: Go Here
Until Next Time… Be Well!
Kind Regards,
RSN