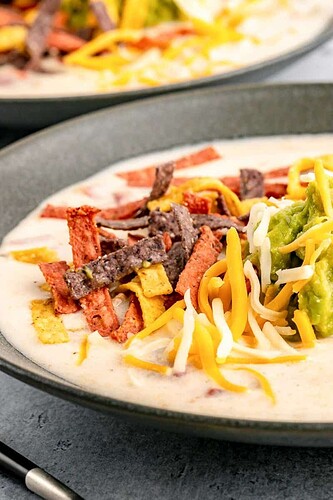 1/2 gallon chicken stock
1/2 teaspoon ground white pepper
1/2 cup butter
1/2 cup all-purpose flour
1 cup Monterey Jack and Cheddar cheese
1 pint half and half
2 teaspoons diced jalapenos
1 can Rotel tomatoes with chilies
1 cup cooked, diced chicken meat (Full Moon marinates chicken in fajita seasonings)
In a large stock pot bring water and white pepper to a boil.
In a small pan make a roux of butter and flour over medium heat. First, melt butter and stir in flour. Cook over low heat, stirring constantly until mixture is smooth and thickened.
Stir roux into chicken stock.
Add cheese to stock and stir until melted. Add remaining ingredients to stock and heat.
To hold, place soup in top of double boiler over hot water.
To serve sprinkle individual servings with strips of flour tortillas that have been deep-fried. Garnish with a dollop of guacamole and mixed cheese.