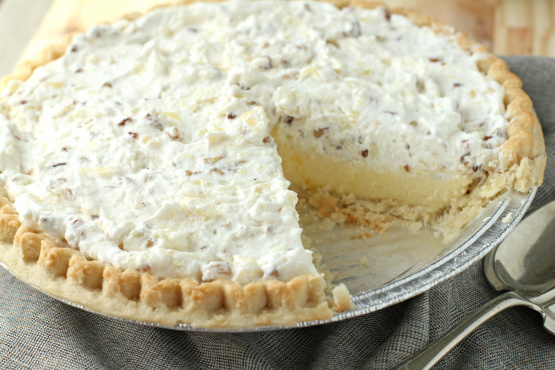 2 cups sifted powdered sugar
1/2 cup margarine or butter, softened
2 large eggs (see Note)
1/8 teaspoon salt
1/4 teaspoon vanilla extract
2 baked 9-inch pastry pie crusts
1 cup heavy cream
1/2 cup sifted powdered sugar
1 cup crushed pineapple, well drained
1/2 cup chopped pecans
Cream 2 cups powdered sugar and butter with electric mixer. Add eggs, salt and vanilla. Beat until light and fluffy. Spread mixture evenly into baked pie crusts. Chill.
Whip cream until stiff. Blend in powdered sugar. Fold in pineapple and pecans. Spread mixture on top of filling and chill thoroughly.
If you concerned about using raw eggs, please use imitation eggs such as eggbeaters, or eggs that have been pasteurized, either work well. Pasteurized eggs are very safe for people who may have compromised immune systems.