This scrumptious Secret Recipe comes from Gale's Restaurant, located in Pasadena, California. This restaurant specializes in offering an outstanding menu of Northern Italian cuisine. Among their delectable offerings is a flourless chocolate cake that is incredibly light and divinely delicious.
With this recipe, you can replicate this perfect dessert at home, and your loved ones will surely think it came from a premium bakery.
Enjoy!
=-=-=-=-=-=-=-=-=-=
Secret Recipe Alert
=-=-=-=-=-=-=-=-=-=
Gale's Flourless Chocolate Cake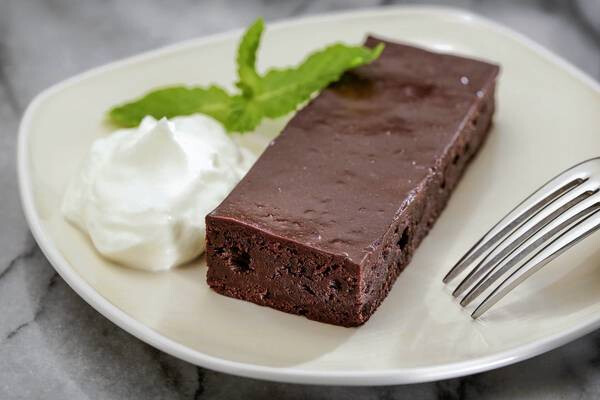 =-=-=-=-=-=-=-=-=-=-=-=-=-=-=-=-=-=-=-=-=-=
The Alpine Secret For Healthy Weight Loss.
=-=-=-=-=-=-=-=-=-=-=-=-=-=-=-=-=-=-=-=-=-=
Chocolate ganache:
1/4 cup (1/2 stick) butter
1/3 cup (2 ounces) chopped semisweet chocolate
Using a double-boiler (or in a bowl set over simmering water), melt the butter and chocolate, gently stirring, to form the ganache. Hold in a warm place until ready to cover the cake.
Chocolate flourless cake:
1 2/3 cups (10 ounces) chopped semisweet chocolate, preferably Callebaut or Valrhona
2 tablespoons cocoa powder
1 1/2 cups plus 1 tablespoon (3 sticks plus 1 tablespoon) butter
7 eggs, separated
7 tablespoons sugar
2 tablespoons coffee liqueur, preferably Kahlua
Prepared ganache, warmed
Whipped cream or crème fraiche, for garnish
Heat the oven to 375 degrees. Grease a 13-by-9-inch baking pan.

Using a double-boiler (or in a bowl set over simmering water), combine the chocolate, cocoa and butter, gently stirring until melted. Remove from heat.

In the bowl of a stand mixer, or in a large bowl using an electric mixer, beat the egg yolks with the sugar until the yolks are very light in color and increased in volume, 6 to 10 minutes. Separately, beat the egg whites until stiff peaks form, 4 to 6 minutes.

Carefully fold the melted chocolate into the beaten egg whites until combined, then fold in the egg yolk mixture. Fold in the coffee liqueur.

Place the mixture in the prepared pan. Bake the cake until a toothpick inserted comes out clean, about 40 minutes. The cake will puff as it bakes and then will settle after it comes out of the oven and cools.

Cool the cake completely on a metal rack, then drizzle with ganache. Serve garnished with whipped cream or crème fraiche.
Serves 12 to 16
Source: LA Times
Until Next Time… Be Well!
RSN