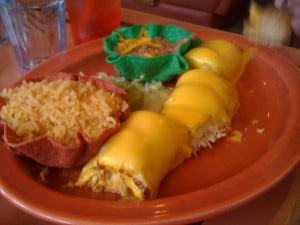 1 1/2 lb. of chicken breasts (frozen or thawed)
16 oz. jar of salsa (your favorite kind)
2 cubes chicken bouillon
8 oz. package of cream cheese
1/4 c. milk
2 Tbsp chopped jalapenos
1 tsp. chicken base (the chicken bouillon paste stuff you have to refrigerate)
1/2 tsp. garlic salt
6-8 flour tortillas (burrito size)
cheddar or American cheese for topping
1/2 . canola oil (optional)
Begin by placing the chicken inside your crockpot.
Then pour the salsa over the chicken and place the two cubes of chicken bouillon on top of the salsa. Cook on high for 3 – 4 hours or low for 6 1/2 – 7 hours until the chicken is cooked.
When the chicken is finished cooking, take it out and shred it with two forks. Then put it back in the crockpot with the rest of the sauce on warm till you need it.
At this point you will want to preheat your oven to 350 degrees. Place about 1/3 c. of chicken filling in the middle of each tortilla. Then fold the bottom end of the tortilla over the middle, fold the sides, over, and roll it up like a burrito. Repeat with all of the tortillas and chicken (or however many you're using).
You can either FRY them next or BAKE them next.
To fry:
Heat the oil in a medium sauce pan (about 1/2 inch deep) until hot. Place the prepared burritos one or two at a time in the oil, flipping over after about 30 seconds. Once golden brown, pat them dry on a paper towel or let them dry on a cooling rack. Then place them on a cookie sheet for the cream cheese step (coming up).
For baking:
Place the prepared burritos on a greased cookie sheet and bake them for 15 minutes at 350 degrees. I baked mine and they still ended up nice and crispy.
You can prepare the cream cheese now or you can prepare it early-it's up to you! To do so, soften the cream cheese then mix in milk, jalapenos, chicken base, and garlic salt. I did this in my food processor to mix it faster and easier. You can also do this in a blender.
Next, spread the cream cheese mixture over the baked or fried burritos. What I did above wasn't enough for even me, the hater of cream cheese. I would slather that stuff on that if you like cream cheese! If you want to be safe with it you can always add more later.
Finally, place the cheese slices over the cream cheese layer. Then top with a couple of slices of jalapeno if you'd like. Put them back in the oven for about 5 minutes or until the cheese is all melted and yummy.