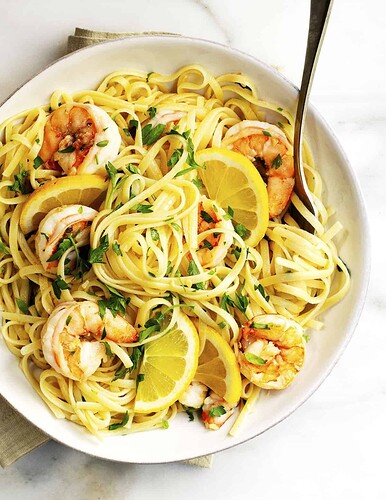 8 ounces uncooked linguine
2 tablespoons olive oil
1 tablespoon butter
1 pound uncooked shrimp (26-30 per pound), peeled and deveined
3 garlic cloves, minced
1 tablespoon grated lemon zest
1 tablespoon lemon juice
1 teaspoon lemon-pepper seasoning
2 tablespoons minced fresh parsley
Cook linguine according to package directions for al dente. Meanwhile, in a large skillet, heat oil and butter over medium-high heat. Add shrimp; cook and stir 3 minutes. Add lemon zest, juice, garlic and lemon pepper; cook and stir until shrimp turn pink, 2-3 minutes longer. Stir in parsley.
Drain linguine, reserving 1/3 cup pasta water. Add enough reserved pasta water to shrimp mixture to achieve desired consistency.