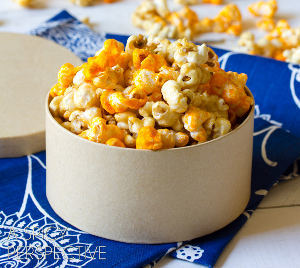 For the Caramel Corn
3 quarts popped popcorn (from about 1/2 cup kernels)
3/4 cup brown sugar
6 Tb. butter
3 Tb. corn syrup
1 - 1 1/2 tsp. sea salt
3/4 tsp. vanilla extract
1 tsp. baking soda
For the Cheese Corn
3 quarts popped popcorn (from about 1/2 cup kernels)
4 Tb. melted butter
3/4 cup cheddar cheese powder
2 tsp. ground mustard powder
2 large paper grocery bag
Pop 6 quarts of popcorn according to package instructions and separate into 2 large clean paper grocery bags. (Based on the size of my largest pot, I do this in two batches.) Be sure to pick out any un-popped kernels.
For the Caramel Popcorn: Place the brown sugar, butter, corn syrup, salt and vanilla in a large microwave safe bowl. Microwave on high for 2 minutes. Stir, then microwave another 2 minutes, until boiling. Immediately stir in the baking soda and pour over the popcorn in one bag. (The baking soda will cause the caramel to foam up.)
Fold the top of the paper bag over a couple times and shake well. Place the bag in the microwave and cook for 1 minute. Shake the bag vigorously again and microwave for 45-60 more seconds. Check at 45 seconds to make sure it's not burning. Open the bag and pour the caramel corn out on waxed paper. Break up clumps if needed. Cool completely to harden. *Every microwave is a little different. After the caramel corn cools completely, if it does not crisp up, put it back in the bag and microwave for another 30-45 seconds.
For the Cheese Corn: Open the top of the second bag and shake vigorously as you slowly pour the butter over the popcorn. Then mix the cheese powder and mustard. Shake vigorously again, as you sprinkle the cheese mixture over the popcorn. Close the bag and fold the top down. Give the popcorn one last hard shake to thoroughly coat. Place the bag in the microwave and microwave for 30-45 seconds to dry out the popcorn. Then allow it to cool before mixing.
Once both popcorns are ready, mix by hand and store in an air-tight container until ready to serve.