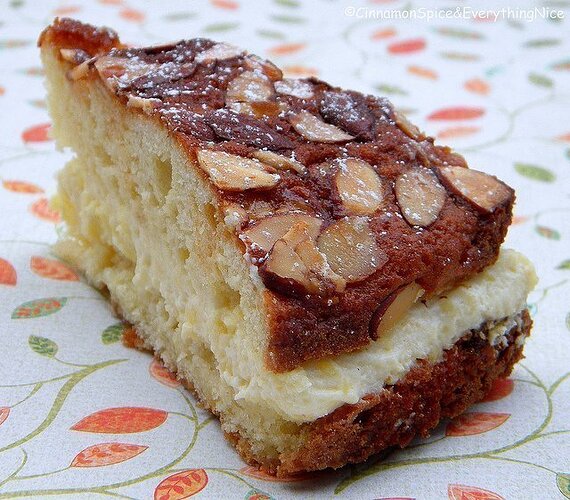 1 3/4 cups all-purpose flour, sifted
1 tablespoon baking powder
1/2 teaspoon salt
8 tablespoons (1 stick) of unsalted butter
2/3 cup granulated sugar
2 eggs
1 teaspoon vanilla extract
6 tablespoons whole milk
1/3 cup honey
heaping 1/2 cup of sliced almonds
Filling:
2 1/2 tablespoons sugar
2 tablespoons cornstarch
3 egg yolks, lightly beaten
1 cup milk
1/4 teaspoon almond or vanilla extract
3 egg whites
1/2 teaspoon cream of tartar, divided
1/2 cup heavy whipping cream
2 tablespoons confectioners sugar
Preheat the oven to 375° F. Grease and flour a 9-inch spring form pan.
In a medium bowl sift together the flour, baking powder and salt. In a separate large mixing bowl cream the butter until fluffy, add sugar gradually, beating until light and fluffy. Add eggs one at a time, beating well after each addition. Beat in vanilla.
Add the flour mixture in 3 additions alternating with the milk, beat only enough to blend. Pour into the prepared pan.
Warm the honey and gently brush over top of the batter. Sprinkle the almonds evenly over top. Bake 25-30 minutes or until a cake tester comes out clean. Cool on a wire rack. Prepare the filling while the cake cools.
Combine sugar, cornstarch and egg yolks in the top of a double boiler (not over the heat). In a separate pan heat milk to scalding – 180 degrees F.
Slowly pour milk over egg mixture while stirring constantly with a whisk. Place over simmering water and cook stirring constantly until smooth and thick, about 3 minutes. Remove from heat and stir in extract.
In a separate large, dry bowl beat egg whites with a 1/4 teaspoon of cream of tartar until stiff peaks form. Gently fold egg whites into the yolk mixture. Place a piece of wax paper over the top and chill.
In a large bowl beat heavy cream with 1/4 teaspoon cream of tartar until thickened. Beat in sugar. Refrigerate.
When custard is chilled fold in whip cream.
To Assemble:
Using a long, serrated knife, cut cake in half horizontally to form two layers. Spread cream evenly over bottom layer of cake. Top carefully with top half of cake. Sprinkle lightly with confectioners' sugar and serve immediately or refrigerate.
Cinnamon Spice & Everything Nice