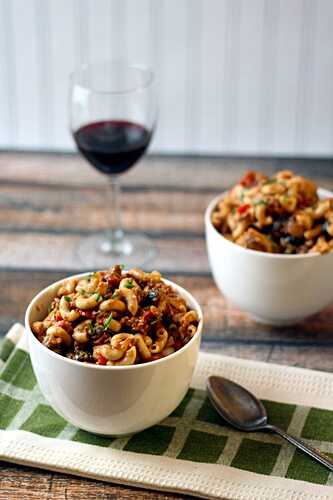 1 tsp. vegetable oil
1 lb. lean ground beef
1 medium yellow onion, diced
3 cloves garlic, minced
2 stalks celery, diced
2 tsp. oregano
1 tsp. freshly ground black pepper
1 tsp. seasoned salt (such as Lawry's)
1/4 c. red wine
2 (15 oz) cans fire-roasted tomatoes
1 (2.25 oz) can sliced olives
1.5 cups cubed cheddar cheese
1.5 cups uncooked macaroni noodles
Heat the vegetable oil in a very large skillet or Dutch oven over medium-high heat. Add the ground beef, onion, garlic, and celery and cook until the ground beef is cooked through. Add the red wine and use a wooden spoon to scrape the bottom of the pan to release any stuck on pieces.
Season with oregano, black pepper and seasoned salt, then add the two cans of tomatoes and the sliced olives. Turn the heat to low and let simmer for fifteen minutes.
Meanwhile, cook the macaroni noodles in a pot of salted boiling water until al dente. Drain well and set aside.
Add the cheese to the skillet and let it melt for a few minutes. Add the drained noodles and toss to combine. Let simmer for an additional five minutes, then serve hot.