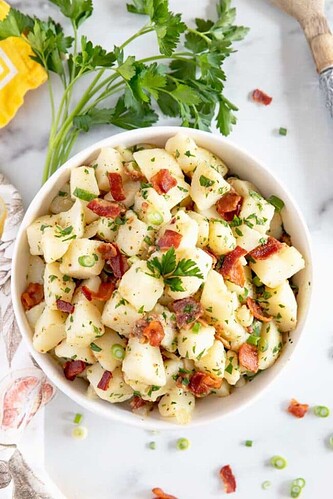 3 pounds potatoes red potatoes or Yukon gold
1 pound bacon, cut into large dice (uncooked)
1/2 cup onion, finely diced
1/4 cup fresh parsley chopped (flat-leaf or Italian parsley works best)
1/3 cup cider vinegar
2 teaspoons Dijon mustard
1 teaspoon whole grain mustard
2 teaspoon sugar
1/3 cup olive oil
1 teaspoon salt
1/4 teaspoon ground black pepper
2 scallions, sliced
Peel and cut the potatoes into bite size pieces and place them in a pot with enough lightly salted water to cover them by 1 inch. Bring to a boil over medium-high heat. Reduce the heat to medium and simmer uncovered, for about 10 -15 minutes or until tender but not falling apart. Drain and transfer the potatoes to a medium bowl.
Meanwhile, place the bacon in a large skillet and cook until crisp. Remove the crispy bacon from the skillet and place on a paper towel-lined plate.
Pour off some of the rendered bacon fat from the skillet, reserving about 3 tablespoons. Add the onion to the skillet and cook, over medium-low heat for about 4-5 minutes or until the onions are soft and translucent but not browned.
Whisk in the vinegar, Dijon mustard, whole grain mustard, sugar, oil, salt and pepper and stir until heated through and a bubbly.
Pour the dressing over the potatoes and toss gently with the crispy bacon, parsley and scallions. Season to taste and serve warm or at room temperature.