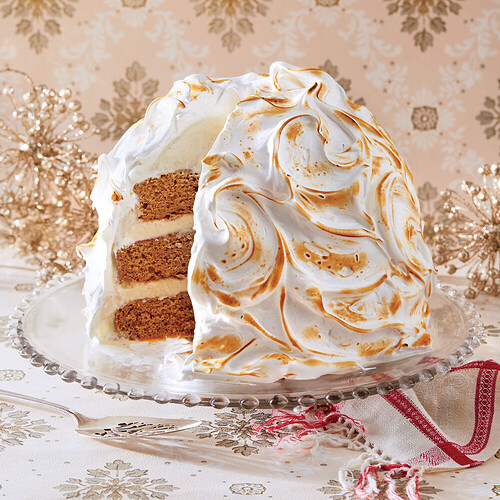 CAKE
2 cups firmly packed dark brown sugar
1 cup butter, soften
3 large eggs
1 tablespoon grated fresh ginger
1 teaspoon vanilla extract
3 cups all-purpose flour
1 teaspoon baking soda
1/2 teaspoon baking powder
1/2 teaspoon table salt
1/4 teaspoon ground nutmeg
1/4 teaspoon ground allspice
1 1/2 cups buttermilk
1/4 cup minced crystallized ginger
Shortening
Vegetable cooking spray
ICE CREAM
1/2 gal. vanilla ice cream, softened
1 tablespoon lemon zest
2 tablespoons fresh lemon juice
SWISS MERINGUE
5 large egg whites
1 1/4 cups granulated sugar
1 teaspoon vanilla extract
Prepare Cake: Preheat oven to 350°. Beat brown sugar and butter at medium speed with a heavy-duty electric stand mixer until light and fluffy. Add eggs, 1 at a time, beating just until blended after each addition. Stir in grated ginger and 1 tsp. vanilla.

Whisk together flour and next 5 ingredients in a small bowl. Add flour mixture to brown sugar mixture alternately with buttermilk, beginning and ending with flour mixture. Beat at low speed just until blended after each addition. Stir in crystallized ginger. Spoon batter into 3 greased (with shortening) and floured 8-inch round cake pans.

Bake at 350° for 23 to 28 minutes or until a wooden pick inserted in center comes out clean. Cool in pans on wire racks 10 minutes. Remove from pans to wire racks, and cool completely (about 1 hour).

Cut a 6-inch circle from 1 cake layer. (We used a 6-inch round cake pan as a guide.) Reserve scraps for another use.

Lightly grease a 5-qt. metal bowl with cooking spray. Line bowl with plastic wrap, allowing 4 to 5 inches to extend over sides.

Prepare Ice Cream: Stir together softened ice cream, zest, and lemon juice.

Assemble: Spoon 1 1/2 cups ice-cream mixture into prepared bowl. Place 6-inch cake layer on ice-cream mixture, and press gently. Top with half of remaining ice-cream mixture.

Place 1 (8-inch) cake layer on ice-cream mixture; press gently. Top with remaining ice-cream mixture and remaining 8-inch cake layer; press gently. Fold extended plastic wrap over cake layer to cover completely. Freeze 12 to 24 hours.

Uncover cake and ice cream, and invert bowl onto serving platter, keeping plastic wrap around sides and top of cake and ice cream. Return to freezer.

Prepare Swiss Meringue: Pour water to a depth of 1 1/2 inches into a small saucepan; bring to a boil over medium-high heat. Reduce heat to medium-low, and maintain at a simmer. Whisk together egg whites and 1 1/4 cups granulated sugar in bowl of a heavy-duty electric stand mixer. Place bowl over simmering water, and cook, whisking constantly, 3 minutes or until sugar dissolves and a candy thermometer registers 140°. Whisk in 1 tsp. vanilla.

Beat mixture at medium-high speed with stand mixer, using whisk attachment, 8 to 10 minutes or until stiff peaks form and meringue has cooled completely.

Remove cake and ice cream from freezer; remove and discard plastic wrap. Spread meringue over top and sides, completely covering cake and ice cream. Brown meringue using a kitchen torch, holding torch 2 inches from meringue and moving torch back and forth. Serve immediately.
Southern Living