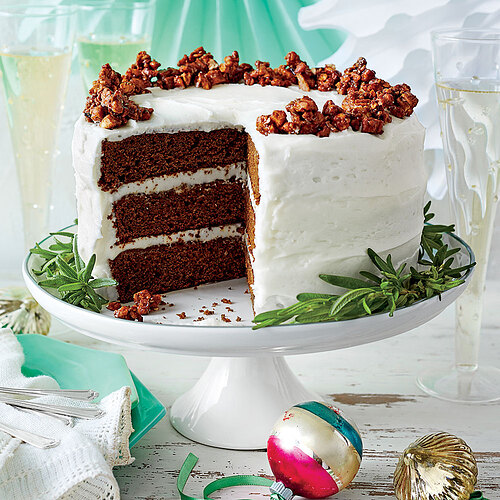 3 3/4 cups all-purpose flour
1/2 cup chopped crystallized ginger
2 teaspoons baking powder
2 teaspoons baking soda
1 teaspoon ground cinnamon
3/4 teaspoon table salt
1/4 teaspoon ground cloves
1 cup butter, softened
1 1/2 cups firmly packed light brown sugar
3 large eggs, separated
1 1/2 cups hot strong brewed coffee
3/4 cup light molasses
Shortening
Buttermilk Frosting (see below)
Spiced Glazed Pecans (see below)
Preheat oven to 350°. Process first 7 ingredients in food processor 1 minute or until ginger is finely ground. Beat butter at medium speed with an electric stand mixer until creamy. Add sugar; beat until fluffy. Add egg yolks, 1 at a time; beat until blended after each addition.

Combine coffee and molasses. Add flour mixture to butter mixture alternately with coffee mixture, beginning and ending with flour mixture. Beat at low speed just until blended. Beat egg whites at high speed until stiff peaks form. Fold egg whites into batter in 3 batches.

Spoon batter into 3 greased (with shortening) and floured 8-inch round cake pans. Bake at 350° for 20 minutes or until a wooden pick inserted in center comes out clean. Cool in pans on wire racks 10 minutes; remove from pans. Cool on racks.

Spread Buttermilk Frosting between layers and over cake. Garnish with pecans.
Buttermilk Frosting
1 cup butter, softened
1 (32-oz.) package powdered sugar
5 to 8 Tbsp. buttermilk
2 tablespoons fresh lemon juice
1 teaspoon vanilla extract
Pinch of salt
Beat butter at medium speed with an electric mixer 1 minute. Gradually add powdered sugar alternately with 5 Tbsp. buttermilk. Beat at low speed until blended. Stir in lemon juice, vanilla, and salt. If desired, add up to 3 Tbsp. buttermilk, 1 Tbsp. at a time; beat to desired consistency.
Spiced Glazed Pecans
1/4 cup sugar
1/4 teaspoon ground cinnamon
1/4 teaspoon ground ginger
1/8 teaspoon ground cloves
1 cup coarsely chopped pecans
Combine first 4 ingredients in a heavy saucepan over medium heat. Add pecans, and cook, stirring constantly, 7 minutes or until sugar melts and coats pecans. Spread on greased wax paper, and cool.
Southern Living