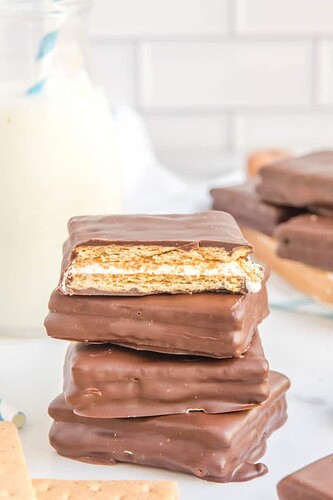 12 graham crackers broken in half to make 24 squares
1 7-ounce jar marshmallow creme
1 11-ounce bag chocolate melting wafers
1 tablespoon vegetable oil
Line a large baking sheet with parchment paper. Place 12 graham cracker squares on the parchment paper.
Cover each graham cracker square with marshmallow cream, spreading evenly with a butter knife. Be sure to coat the entire surface.
Top each cookie with the second graham cracker square, placing it evenly on top to match the bottom. You will want to gently press the top graham cracker square down slightly to adhere to the marshmallow cream. Do this for each cookie, making sure they do not touch.
Place the baking sheet in the refrigerator and allow it to chill for one hour.
Near the end of the chill time, begin to prepare your melting chocolate.
Add the chocolate wafers to a microwave safe bowl. Microwave on 50% power for 1 minute.
When done, stir well and add the vegetable oil. Microwave on 50% power for 30 second intervals, stirring in between, until the chocolate is silky smooth.
Using two forks or dipping tools, dip each cookie into the melted chocolate, covering it completely before placing it back on the baking sheet.
Repeat this process, working one cookie at a time.
When all cookies are covered in chocolate, place them back inside the refrigerator for 1 hour.