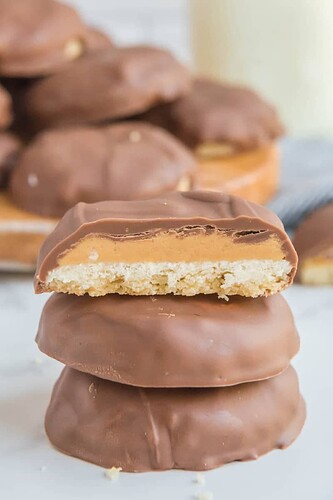 For the Peanut Butter Filling
1 ¼ Cup Peanut Butter
1 Cup Powder Sugar
For the Shortbread Cookie Base
¾ Pound Butter, Softened
1 Cup Sugar
1 Tablespoon Vanilla Extract
3½ Cups All Purpose Flour
Pinch of Salt, To Taste
For the Chocolate Coating:
16 Ounces of Milk Chocolate Chips
For the Peanut Butter Filling
In a small mixing bowl, combine peanut butter and powdered sugar until incorporated.
Line a cookie sheet with wax paper. Fill a small cookie scoop ~1/2 way full of the peanut butter
mixture. Place on prepared pan.
Refrigerate for 10-15 minutes or until set.
Preheat the oven to 350 degrees F.
For the Shortbread Cookie Base
Cream butter and sugar together.
Stir in vanilla and salt.
Add flour a little at a time until just combined, do not over mix.
Form dough into one large disc. Wrap in plastic wrap and chill for 30-45 minutes.
Roll dough to ~1/2 inch thickness. Cut out circles with a small biscuit cutter.
Bake on an un greased pan for 14-16 minutes or until the edges are golden brown. Cool completely.
For the Milk Chocolate Coating
Melt chocolate chips in the microwave for 1-2 minutes, stirring frequently until smooth.
Putting It All Together
Place peanut butter balls onto cookies. Spread to edges with a knife.
Use a fork to dip into chocolate until covered. Allow excess to drip off.
Place on a cookie sheet lined with wax paper in the fridge until set.