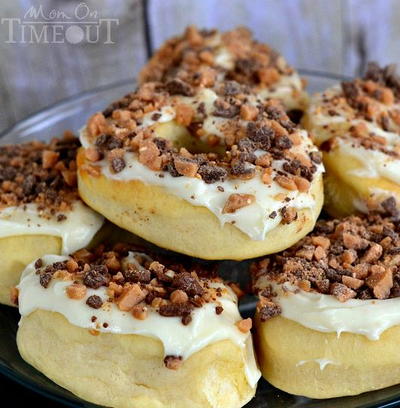 Doughnuts
? cup sugar
1 egg, room temperature Coupons
1 cup whole milk, heated to 110-115 degrees
1 Tbls active dry yeast
1 Tbls vanilla extract
1 tsp salt
2½ to 3½ cups flour, divided
½ cup butter, cold, cut into 20-24 cubes
Cream Cheese Frosting
4 ounces reduced-fat cream cheese, softened
4 Tbls unsalted butter, softened
1 cup powdered sugar
½ tsp vanilla extract
½ cup Heath bits
Cream Cheese Frosting
Cream the cream cheese and butter together.
Beat in the vanilla extract.
Sift the powdered sugar and gradually add to the cream cheese mixture.
Continue beating until frosting is nice and fluffy.
Refrigerate until needed.
Doughnuts
Beat egg and sugar together in a mixer bowl until nice and blended.
Add milk, yeast, vanilla, and salt and continue mixing until combined.
Turn mixer to low and gradually add 2 cups of flour. Continue on low speed until dough is pulling away from the sides of the bowl.
Change to the dough hook and turn the mixer to medium speed.
Add butter one cube at a time and continue beating until butter is combined and no large pieces of butter are visible.
Reduce mixer speed to low and continue adding flour a little at a time until the dough forms a ball around the hook. The dough will be very soft.
Lightly flour a cutting board and turn dough onto the floured surface.
Knead the dough until it is no longer sticky.
Lightly grease a medium sized bowl and transfer the dough to the bowl.
Cover the bowl with plastic wrap and let rise until doubled in size. About 1 hour.
Punch down the dough and roll out to ½ inch thick.
Use a doughnut cutter, cookie cutter, or large glass, to cut out rounds from the dough. Use a smaller cutter for the center.
Line a baking sheet with parchment paper and place doughnuts 2 inches apart. Cover with plastic wrap and let rise until almost doubled in size. 20-30 minutes.
Preheat oven to 400 degrees. Bake doughnuts until lightly golden and then brush with butter if desired.
Let cool for just a few minutes.
Frost with cream cheese frosting and sprinkle heath bits on top.
Serve immediately.