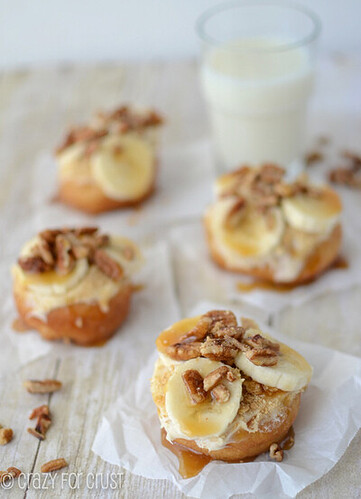 For the Doughnuts:
1 can refrigerated biscuits (either small or large, 8-10 count)
Vegetable Oil, for frying
For the Frosting:
4 ounces cream cheese, room temperature
1/4 cup butter, room temperature
2 cups powdered sugar
1 teaspoon vanilla
For the Toppings:
1 graham cracker sheet, crushed to make crumbs (I used my hands)
1 banana, sliced thin
Caramel ice cream topping (about 1/4-1/2 cup)
Chopped Pecans
Make your frosting: beat cream cheese and butter with a hand mixer in a large bowl. Beat in powdered sugar and vanilla until frosting comes together. Set aside.
Fill a medium saucepan or dutch oven with oil so that it comes 2" up the sides. Heat over medium-high heat until it reaches 350 degrees (I used a candy thermometer to measure it).
While the oil is heating, line a cookie sheet with paper towels. Unwrap your biscuits and cut a hole in the center of each. Depending on the size of your biscuit you can use a small cookie cutter or the large end of an icing tip.
Once the oil comes up to temperature, fry the doughnuts in batches. Place each doughnut in the oil, cook until the bottom is golden, flip with a spatula, and cook until the other side is golden. Use a slotted spoon to remove each doughnut from the oil carefully and place it on the cookie sheet. Let cool a few minutes before topping.
Top doughnut: frost with cream cheese frosting. Sprinkle with graham cracker crumbs. Top each doughnut with a few slices of banana then sprinkle with pecans and drizzle with caramel sauce. Serve immediately.