Today's Secret Recipe will show you how to make the dairy free key lime pie that is served at Gracias Madre. Gracias Madre is a plant-based Mexican restaurant located in West Hollywood, California. Chef Chandra Gilbert serves up a menu of meatless Mexican fare using all vegan and organic ingredients.
This recipe calls for date paste and lecithin granules. Date paste is also known as pressed dates and is available at Middle Eastern markets; to make it, process pitted dates with a little water to form a paste. Lecithin granules are available at select gourmet markets and cooking stores, as well as online.
You can always find a great selection of pie recipes on our forum: Go Here
Enjoy!
=-=-=-=-=-=-=-=-=-=-=-=-=-=
I was losing my memory, focus – and my mind!
And then… I got it all back again.
Discover How: Here
=-=-=-=-=-=-=-=-=-=-=-=-=-=
=-=-=-=-=-=-=-=-=-=
New Secret Recipe
=-=-=-=-=-=-=-=-=-=
Gracias Madre's Key Lime Pie
Like this recipe? Get our Secret Recipes Cookbook – Go Here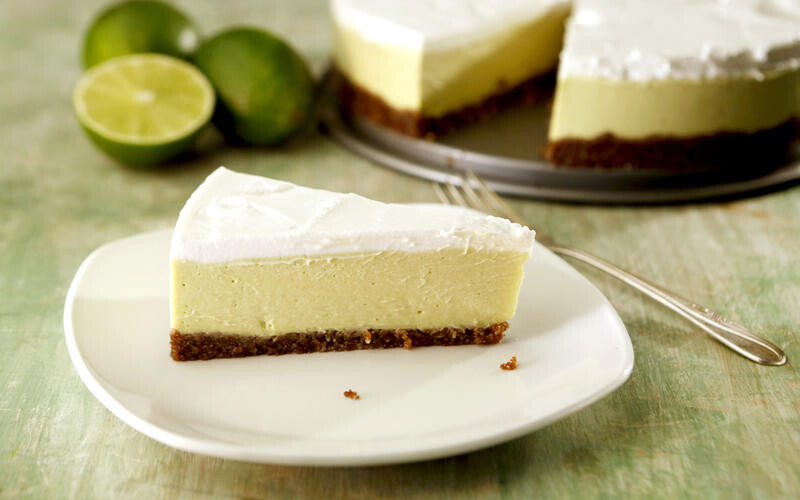 Crust:
2 cups pecans, chopped
4 ounces date paste
1/4 teaspoon salt
2 teaspoons vanilla extract
In a food processor fitted with a steel blade, combine the pecans, date paste, salt and vanilla extract, and process to form an even crumb. Press the crust into a well-oiled 9-inch springform pan, and refrigerate until ready to assemble.
Filling:
1 cup lime juice, from 1½ to 2 pounds limes
3/4 cup light agave syrup
1/2 cup coconut milk (shake the can vigorously before pouring)
12 1/2 ounces ripe green avocado flesh, from 2 to 4 avocados (without brown spots)
2 tablespoons vanilla extract
1/4 teaspoon salt
3 tablespoons lecithin granules
3/4 cup coconut oil
Prepared crust
In a food processor fitted with the steel blade, combine the lime juice, agave, coconut milk, avocado, vanilla and salt, and process until smooth. Add the lecithin and coconut oil, and continue to process, stopping to scrape down the sides, until completely combined and you can no longer see lecithin granules. Pour the filling evenly over the crust, and tap the springform pan lightly to evenly distribute the filling and eliminate air bubbles. Refrigerate the pie overnight.
Whipped cream:
2 cans coconut milk, refrigerated overnight
2 tablespoons light agave syrup
1/4 teaspoon salt
1/8 teaspoon vanilla extract, or to taste
2 tablespoons melted and cooled coconut oil
Without shaking or turning the cans of coconut milk over, carefully open and remove the semi-solid cream that has risen to the surface (about 3/4 cup heavy cream per can). Save the leftover milk for another use.

Combine the cream in a bowl with the agave, salt and vanilla, and beat with an electric mixer until soft peaks form, 3 to 7 minutes. Beat in the coconut oil.

Refrigerate the whipped cream overnight. Before serving, fluff the cream with a fork.
Serves 8-12
Source: LA Times
Get more secret restaurant recipes on our Secret Recipe Forum: Go Here
Until Next Time… Be Well!
Kind Regards,
RSN