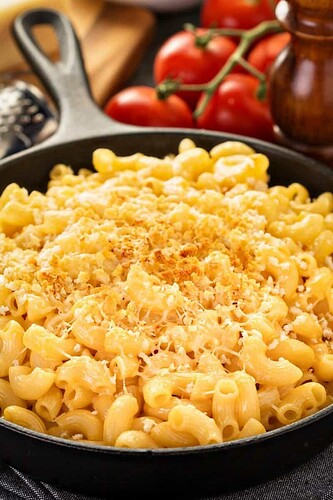 Cheddar Cheese Sauce:
2 tablespoons butter
2 tablespoons all-purpose flour
1 cup whole milk
¼ cup heavy cream
2 cups medium sharp cheddar cheese grated
¼ teaspoon kosher salt
Butter Breadcrumb Mix:
2 tablespoons panko breadcrumbs
2 tablespoons butter melted
Macaroni and Cheese:
8 ounces macaroni pasta or gemelli pasta
1/2 cup medium sharp cheddar cheese grated
1/2 cup monterey jack cheese grated
For the Cheddar Cheese Sauce:
Heat the butter in a small sauce pot set over medium-high heat until the butter is completely melted.
Add the flour and whisk to incorporate. Cook until the raw flour taste has been cooked away (about 1 1/2 minutes). Do not allow it to turn brown. It should remain very light blond in color.
Slowly add the whole milk a ¼ cup at a time, whisking to prevent lumps.
Add the heavy cream while continuing to whisk. Allow the sauce to come to a gentle boil.
Lower the heat. Simmer and stir occasionally to avoid burning (about 1 to 2 minutes).
Add the grated cheddar cheese and stir to incorporate with a wire whisk until completely melted.
Season with salt. Remove the sauce from the heat,
For the Butter-Breadcrumb Mix:
In a small mixing bowl, combine the panko breadcrumbs and melted butter.
For the Macaroni and Cheese:
Preheat the oven to the broil setting. If you do not have a broiler, set your oven to 500°F and leave your oven door slightly cracked open.
Cook the macaroni pasta according to the package directions. Drain.
Place the cooked and drained pasta into the saucepan with the cheddar cheese sauce. Using a rubber spatula, fold to incorporate.
Place the macaroni and cheese into a small cast iron skillet or other oven-safe ramekin or small casserole dish.
Sprinkle the butter-breadcrumb mixture evenly over the macaroni and cheese.
Place the macaroni and cheese skillet into the oven until the cheese is melted and the breadcrumbs turn golden brown. Be careful not to burn the breadcrumbs.
Remove the macaroni and cheese from the oven.