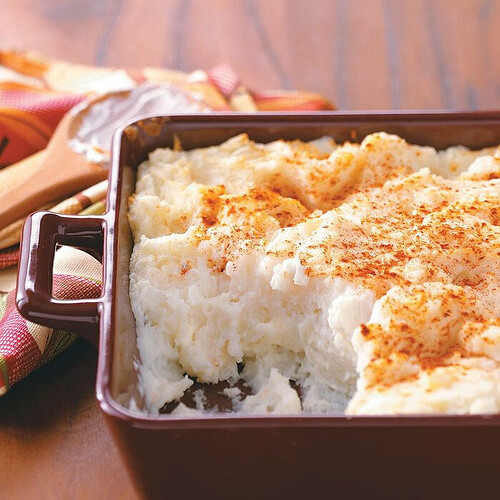 12 medium potatoes, peeled and quartered
2 tablespoons butter
2 tablespoons milk
3/4 teaspoon salt
1/4 teaspoon pepper
1 package (8 ounces) cream cheese, softened
1 carton (8 ounces) French onion dip
Paprika
Place potatoes in a large saucepan and cover with water. Bring to a boil. Reduce heat; cover and cook for 15-20 minutes or until tender. Drain. Mash the potatoes with butter, milk, salt and pepper until smooth. Add cream cheese and onion dip; mix well.
Spread in a greased 2-1/2-qt. baking dish. Sprinkle with paprika. Cover and refrigerate for 8 hours or overnight.
Remove from the refrigerator 30 minutes before baking. Bake, uncovered, at 350° for 50-60 minutes or until heated through.