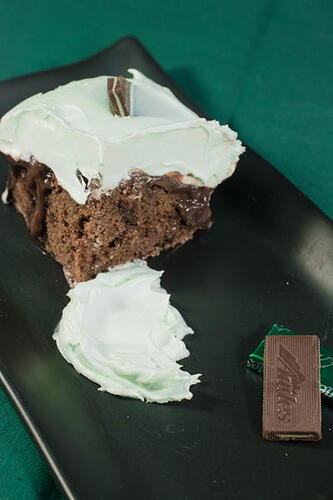 1 box milk chocolate cake mix, plus ingredients required per package directions
1 (4.67-ounce) package Andes mints, divided
1 (3.9-ounce) package instant chocolate pudding mix
2 cups cold milk
1 1/4 cup prepared hot fudge sauce
12 ounces frozen whipped topping, thawed
1/2 teaspoon peppermint flavoring
2 drops green food coloring
Preheat oven and prepare cake per package directions.
Chop about 2/3 of the package (3 ounces) of mints into small pieces and fold into the cake batter before baking.
When cake is nearly baked, combine pudding mix and cold milk per package directions.
Remove cake to a cooling rack and immediately poke about 24 holes into the cake using the handle of a wooden spoon.
Warm the hot fudge sauce in the microwave for 1 minute, until pourable, and pour over the warm cake and into the holes.
Spread the pudding evenly on top and allow it also to fill the poked holes as much as possible.
Add mint flavoring and food coloring to the whipped topping and stir to combine well.
Spread topping over the cake. Chop remaining mints to garnish the top of the cake.
Cover lightly with plastic wrap and chill for at least 4 hours or overnight before serving.