Great Sandwiches
Sandwiches are great for an easy-going, laid back meal. If you are tired of peanut butter and jelly sandwiches, then Great Sandwiches is the sandwich recipe book for you!
Discount Cookbook Club Members Get This Cookbook Free (password required):

(The cookbook club is a paid subscription that is separate from our free recipe forums)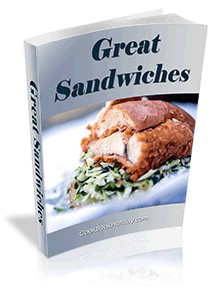 Within the pages of Great Sandwiches, you will find the traditional sandwiches as well as a selection of unique variations like:
REUBEN SANDWICH
CHEF SALAD SANDWICH
MONTE CARLO SANDWICHES
HAWAIIAN CRESCENT SANDWICHES
HERO SANDWICH
GLORIFIED BLT SANDWICH
SUPER BOWL SUBS
ARMENIAN SANDWICHES
SEBASTIAN SANDWICH
MEXICALI SANDWICH
ADIRONDACK SANDWICHES
MEAT AND SLAW TAILGATE SANDWICH
SEVEN LAYER TACO SANDWICH
TURKEY WALDORF SANDWICH
MALIBU CHICKEN SANDWICH
CHAMPION CHEESE STEAK SANDWICH
HAWAIIAN FARMER SANDWICHES
DAGWOOD ITALIANO
EVERYONES FAVORITE PASTRAMI SANDWICH
GREEK GYRO
SYMPHONY SANDWICHES
BAVARIAN BEEF SANDWICH
CAJUN CHICKEN SANDWICHES
CHICAGO ITALIAN BEEF SANDWICHES
COLD TURKEY REUBEN SANDWICH
FIESTA STYLE SLOPPY JOES
GRILLED CUBAN SANDWICH
HULA HAM SANDWICH
HOT ITALIAN MEATBALL SANDWICHES
MILE HIGH SHREDDED BEEF
AND MORE!

- Non Members Can Sign Up Here
- Or To Order This Title Separately Click Here