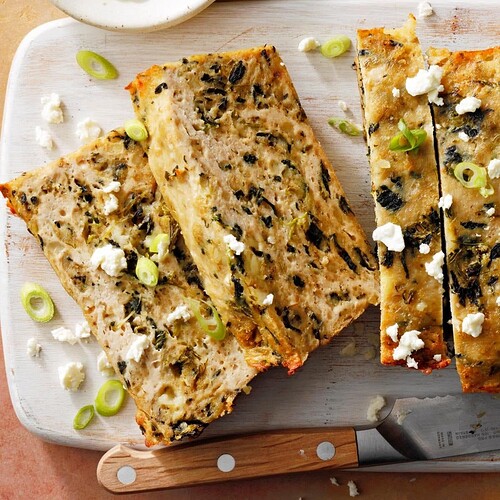 1 package (10 ounces) frozen chopped spinach, thawed and squeezed dry
1 cup seasoned bread crumbs
1 large egg, room temperature, lightly beaten
1 tablespoon lemon juice
2 garlic cloves, minced
1 1/2 teaspoons Italian seasoning
1 teaspoon garlic powder
3/4 teaspoon salt
1/2 teaspoon pepper
1 cup crumbled feta cheese, divided
2 pounds ground chicken
1 green onion, finely chopped
Preheat oven to 350°. In a large bowl, combine the first 9 ingredients. Reserve 1 tablespoon feta for topping. Add remaining feta to spinach mixture. Add chicken; mix lightly but thoroughly. Transfer to a greased 9x5-in. loaf pan.
Bake until a thermometer reads 165°, 60-70 minutes. Let stand 10 minutes before slicing. Serve with green onion and remaining 1 tablespoon feta.