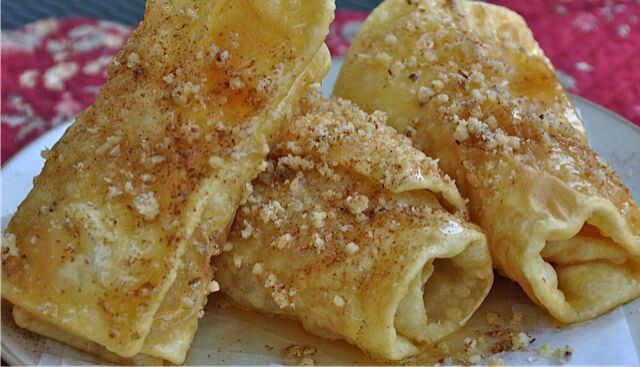 Ingredients:
5 egg yolks
1 egg
1/4 c butter, melted & cooled
1 t orange peel, finely shredded
1/4 c orange juice
2 T. brandy
1 T. lemon juice
2 1/2 c flour can have as much as 3c flour
1 t. baking powder
cooking oil for deep fat-frying
1 c honey
2 T. water
cinnamon, ground
3/4 c walnuts, ground
Directions:
In a small bowl beat egg yolks and egg at high speed about 4 minutes or till thick and lemon-colored. Stir in butter, orange peel, orange juice, brandy and lemon juice. Stir together 2 cups of the flour and the baking powder. Stir into egg mixture. Stir in as much of the remaining flour as you can mix using a spoon.

On a lightly floured surface knead in remaining flour to make a moderately stiff dough. Continue kneading till dough is smooth and elastic (5-8 mm.). Divide dough into quarters. Cover. Let rest 10 minutes. Roll each quarter too, 16-inch square. If dough is difficult to roll, cover and let rest a few minutes more. Cut dough into 4-inch squares.

Drop one square into deep hot oil (360 degrees). Slip dough between tines of a long-tined fork and quickly twist dough into a roll, using second fork to guide the dough. Continue cooking till roll is browned, turning once.

Transfer to paper towel; remove fork. Repeat with remaining dough squares. Store in covered container.
Just before serving, combine honey and water in saucepan. Heat till worm. Dip the desired number of rolls, one at a time, in syrup.

Sprinkle with cinnamon and walnuts.
Makes 64.
Enjoy!
Until Next Time… Be Well!
Kind Regards,
RSN
=-=-=-=-=-=-=-=-=-=-=-=-=-=-=-=-=-=-=
Lose Weight With This Water Hack
=-=-=-=-=-=-=-=-=-=-=-=-=-=-=-=-=-=-=