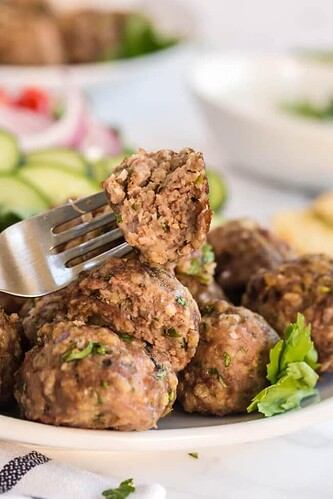 1 pound ground beef
1/2 pound ground pork
1 medium red onion, grated
2 garlic cloves, minced
1 cup Panko bread crumbs
1 egg
1/4 cup fresh parsley, finely chopped
1 tablespoon extra virgin olive oil
2 teaspoons fresh mint, chopped
1 teaspoon dried oregano
1/2 teaspoon ground cumin
1 teaspoon salt
1/4 teaspoon ground black pepper (or to taste)
Preheat the oven to 350 degrees Fahrenheit.
Line a baking sheet with aluminum foil and spray with cooking spray or brush lightly with olive oil.
Place all the ingredients into a large mixing bowl and combine by hand until well incorporated. Form into meatballs (about 1-inch in diameter). This process is easier and the meatballs more uniform if you use an ice cream scoop.
Place the meatballs on the baking sheet and bake for 18 -20 minutes or until golden brown and cooked through.