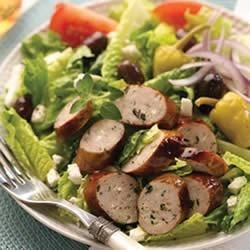 1 (12 ounce) package al fresco® Spinach & Feta Chicken Sausage
6 cups romaine lettuce hearts, cut or torn into bite size pieces
1/2 cucumber, skinned and cut on diagonal
6 pitted kalamata olives
1/4 cup crumbled feta cheese
1/2 red onion, sliced into strips
2 medium tomatoes, cut into wedges
1/2 cup Greek Goddess salad dressing
Grill the al fresco Spinach & Feta Chicken Sausage over a medium-high grill, 5 minutes per side.
Slice the sausage on the diagonal into 1/4 inch thick slices.
Set up the salad in a serving bowl or platter and arrange the grilled sausage slices over the romaine lettuce.
Top with the cucumber, olives, feta cheese, red onions, tomatoes.
Toss with Greek Goddess Dressing. Serve immediately.