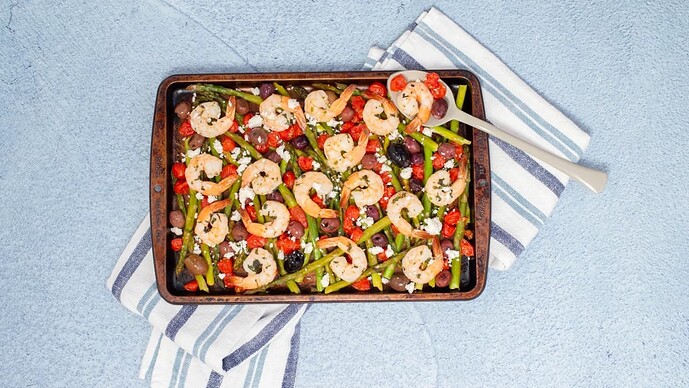 2 pounds fresh asparagus
1 pint grape or cherry tomatoes, halved crosswise
3 tablespoons olive oil, divided
3/4 teaspoon kosher salt, divided
1/2 teaspoon freshly ground black pepper
1 cup mixed pitted Greek olives
1 pound large deveined, tail-on shrimp, thawed if frozen
1 teaspoon minced fresh oregano
1 teaspoon minced fresh mint
1/2 cup crumbled feta cheese, for garnish
Preheat the oven to 400ºF.
Trim the asparagus by bending each spear about 1 inch from the cut end until it snaps. In a large bowl, toss the asparagus and tomatoes with 2 tablespoons olive oil, 1/2 teaspoon kosher salt and 1/4 teaspoon black pepper. Spread evenly on a large rimmed sheet pan. Add the olives, tossing them evenly over the vegetables. Cook for 20 minutes while you prepare the shrimp.
Toss the shrimp with the remaining 1/4 teaspoon each kosher salt and pepper, along with the oregano and mint. Toss the vegetables gently with tongs, then place the shrimp on top of the vegetables in an even layer. Cook for 10 minutes more, until the shrimp are opaque and cooked through. Sprinkle with feta cheese and serve immediately.