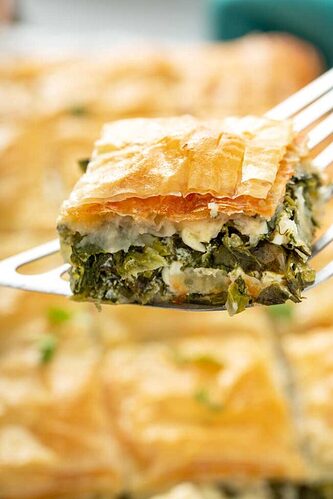 2 (10-ounces) packages of frozen spinach, defrosted
12 ounces feta cheese small diced
¾ cup full fat plain Greek yogurt
3 scallions thinly sliced
2 large eggs beaten
2 tablespoons fresh dill chopped
3 garlic cloves minced
1 teaspoon lemon zest
1 tablespoon fresh lemon juice
1 teaspoon ground nutmeg
½ teaspoon ground black pepper
teaspoon sea salt
Phyllo Layers
7 tablespoons unsalted butter melted
18 sheets about ½ pound of phyllo dough (14 by 9-inch sheets), thawed
2 ounces about ¾ cup Parmesan cheese, finely grated
Drain the water from the spinach. Place the spinach in a clean kitchen towel or in layers of cheese cloth and squeeze out all the water. Try to drain as much of the water as possible.
Place the drained spinach in a large bowl. Add the feta cheese, yogurt, scallions, eggs, dill, garlic, lemon zest and lemon juice, nutmeg, ground pepper and salt and mix until well combined.
Adjust the oven rack to the lower-middle position. Preheat the oven to 425 degrees Fahrenheit.
Line rimmed baking sheet with parchment paper. Using a pastry brush, lightly brush the parchment paper with melted butter to cover the area where the phyllo dough will be placed.
Keep the phyllo dough covered with a damp kitchen towel while working with the phyllo sheets. This will prevent the phyllo from drying out.
Lay 1 phyllo sheet on the buttered parchment. Brush the sheet thoroughly with melted butter. Repeat with 9 more phyllo sheets, brushing each one with butter. You should have a total of 10 layers of phyllo.
Spread the spinach mixture evenly over the phyllo, leaving about ¼ -inch border on all sides.
Cover the spinach mixture with a sheet of phyllo, brush it with butter and sprinkle it with about 2 tablespoons of Parmesan cheese. Repeat with 5 more phyllo sheets brushing each one with butter and sprinkling with Parmesan. Lay two more layers, brushing each with butter (don't sprinkle any cheese on the last 2 layers).
Working from the center outward, use the palms of your hands to gently compress the layers and press out any air pockets. Using a sharp knife, score the spanakopita through the top 3 layers of phyllo into 24 equal pieces.
Bake for about 20 to 25 minutes or until the phyllo is golden and crisp. Remove from the oven and allow it to cool for about 10 minutes (or up to 2 hours).
You can slide the spanakopita to a cutting board or serving platter. Cut into squares and serve.