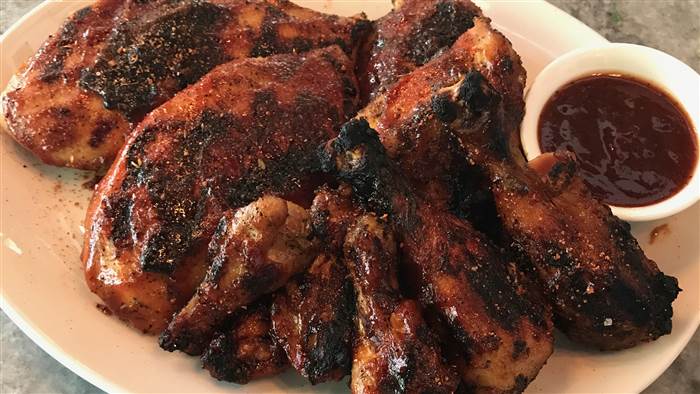 ALL-PURPOSE BARBECUE SEASONING (MAKES 2 CUPS)
1/2 cup granulated sugar
1/2 cup sweet paprika
1/4 cup salt
2 tablespoons granulated garlic
2 tablespoons granulated onion
1/3 cup dark brown sugar
1 teaspoon dried oregano
1/4 teaspoon fennel seed powder
1 teaspoon cumin
2 teaspoons chili powder
1/2 teaspoon cayenne
1/2 teaspoon dried thyme
2 tablespoons freshly ground black pepper
2 teaspoons hatch chili powder
PIG BEACH BARBECUE SAUCE (MAKES 3 CUPS)
1 cup ketchup
1/2 cup chili sauce, preferably Heinz
3/4 cup dark brown sugar
1/2 teaspoon salt
1/2 teaspoon oregano
2 teaspoons tamari sauce
1 teaspoon freshly ground black pepper
2 teaspoons hot sauce, preferably Frank's RedHot
1/4 cup honey
1/4 teaspoon ground cloves
1/4 teaspoon ground allspice
1/4 teaspoon granulated onion
1/2 teaspoon granulated garlic
1/4 teaspoon cayenne pepper
2 tablespoons Worcestershire sauce
CHICKEN
One 3½-pound chicken, broken down into breasts, thighs, legs and wings
2 tablespoons All-Purpose Barbecue Seasoning (recipe above)
1 cup Pig Beach Barbecue Sauce (recipe above)
Nonstick cooking spray
For the All-Purpose Barbecue Seasoning:
Combine all ingredients in a mixing bowl, then transfer to a food processor and pulse until all ingredients are evenly incorporated. Set aside.
For the Pig Beach Barbecue Sauce:
In a medium sauce pot, combine all ingredients with a stick blender, then bring to a simmer over medium low heat. Set aside to cool.
For the chicken:
Clean, oil, and pre-heat your grill (gas or charcoal) to medium heat.

Aggressively season your chicken with the all-purpose barbecue seasoning and let sit for 10 minutes to bring out the flavors in the spices and to marinate the chicken.

Place chicken skin side down and cook for 5 minutes (be careful that your grill is not too hot or you will burn the skin). Flip the chicken and continue to cook another 5 minutes or internal temperature of the chicken reaches 145°F.

Once the chicken has reached this temperature, transfer chicken to the upper rack of grill (or reduce heat to low), baste generously with Pig Beach Barbecue Sauce and continue cooking to create a caramelized glaze and to allow the chicken to reach an internal temperature of 160°F.

Once the chicken reaches 160°F, remove from grill and allow the chicken to rest 5-10 minutes before serving (while it rests, the chicken will continue to carry over cook to reach a final temperature of 165°F).
Serve with some additional barbecue sauce for dipping the chicken.