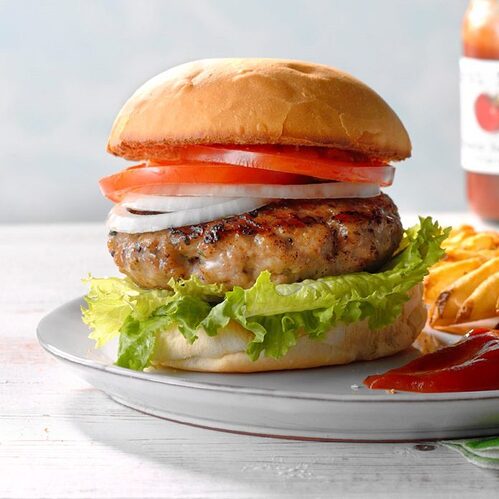 1 slice bread crumbled
2 tablespoons milk
1 shallot, minced
2 tablespoon jarred pepper rings
4 teaspoons soy sauce
1 tablespoon worcestershire sauce
1 1/2 teaspoons chili powder
1 1/4 teaspoon thyme
1/2 teaspoon rosemary
1/2 teaspoon salt
1 teaspoon pepper
1 1/2 pounds ground pork
4 hamburger buns
Sauce:
1/4 cup mayo
2 tablespoons sour cream
1 tablespoon horseradish
1 tablespoon whole grain mustard
1 garlic clove minced
pinch sugar
dash salt and pepper
dash hot sauce
In a bowl throughly mash bread and milk.
Add all the other ingredients except the pork and mix well.
Add pork and mix throughly.
Mix sauce ingredients in a small bowl.
Shape into 4 equal balls then press each one into a 3/4 inch patty.
Using 2 fingers make a divot in each patty.
Place burgers on grill divot side down, covered over medium heat for 4-5 minutes on each side or until a thermometer reads 150°.
Place buns on grill top side up for 2 minutes.
Smear sauce on buns, add a patty and top with lettuce, tomato and onion.