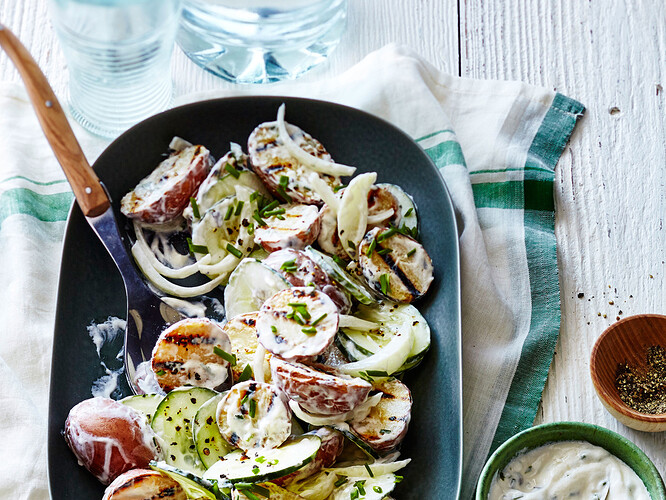 2 pounds baby red potatoes
1/4 cup plus 1/2 teaspoon kosher salt, divided
1/2 cup sour cream
1/2 cup cup mayonnaise
2 tablespoons white wine vinegar
1 garlic clove, minced
2 teaspoons finely chopped fresh oregano
2 teaspoons thinly sliced fresh chives
1 tablespoon chopped fresh flat-leaf parsley
1 tablespoon fresh lemon juice
1/4 cup plus 2 tablespoons olive oil, divided
1/2 teaspoon black pepper, divided
1/3 cup thinly sliced Vidalia or other sweet onion
1 medium cucumber, thinly sliced (optional)
Bring the potatoes, 1/4 cup of the salt, and water to cover to a boil in a large saucepan over high heat.
Reduce heat to medium-low, and simmer until tender when pierced with a fork, about 15 minutes.
Drain and cool 5 minutes.
Cut potatoes in half.
Whisk together sour cream, mayonnaise, vinegar, garlic, oregano, chives, parsley, and lemon juice in a medium bowl.
Gradually whisk in 1/4 cup of the olive oil, 1/4 teaspoon of the pepper, and remaining 1/2 teaspoon salt.
Toss potatoes with remaining 2 tablespoons olive oil and 1/4 teaspoon pepper in a large bowl.
Grill potatoes, cut side down and covered with grill lid, until lightly charred, about 8 minutes.
Turn and grill, covered with grill lid, 2 more minutes.
Transfer to a bowl, and cool 5 minutes.
Toss together the cucumber, onion, potatoes, and 1 cup of the dressing.
Serve with remaining dressing.