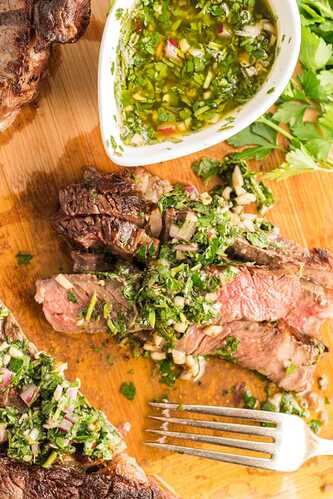 1 to 1 1/2 inch thick Rib-Eye steaks
Salt and black pepper
Olive oil for brushing the steaks (about 1-2 tablespoons)
For the Chimichurri Sauce
1 bunch flat leaf parsley
5 garlic cloves, minced
1/4 bunch cilantro (about 12 sprigs – doesn't need to be exact)
1/4 cup red wine vinegar
1/2 lemon, juiced (about a teaspoon)
1/2 cup olive oil (plus more if needed)
1 teaspoon dried oregano
1/4 teaspoon dried red chili flakes (optional)
1 tablespoon red onion, minced
Salt and black pepper to taste
To Make The Chimichurri Sauce
Into a food processor, add the parsley and garlic and pulse a few times.
Add the cilantro, red wine vinegar and lemon juice and pulse until is all chopped finely. Place the mixture into a bowl.
Add the olive oil, oregano, chili flakes (if using) and red onion. Mix well to combine. Season with salt and pepper to taste.
Chimichurri sauce taste best if you let it sit for about 20 minutes so the flavors meld together.
For the Steaks
Pat the steaks dry and drizzle or brush them with olive oil. Season with salt and pepper. At this point, you are ready to grill your steaks or you can refrigerate them for up to 24 hours.
Preheat the grill to high heat (450 to 500 degrees Fahrenheit)
Place the steaks on the hot grill and cook for about 3-5 minutes per side for medium rare. 5-7 for medium and 8-10 for medium well. To make sure the steak is done to your likeness, it's best to check the internal temperature with an instant read thermometer for accuracy.
Remove the steaks from the grill and allow them to rest on a platter, covered for 5-8 minutes, before slicing.
Chef's Tips
Remove the steaks from the refrigerator 20-30 minutes before grilling so they come to room temperature.
Chimichurri can be served as soon as it is ready, however letting it sit for about 20 minutes allows for the flavors to meld together producing a much more flavorful sauce.
Use tongs to flip the meat. Do not pierce it with a fork.
Due to "carryover cooking", the temperature of your steak will rise after its removed from the grill, That is why it's important to rest the meat before cutting into it. During this resting period, the internal temperature will increase by about 5 to 10 degrees due to carry over cooking.