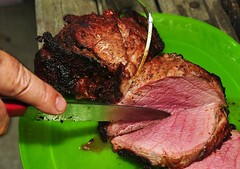 3 lb beef round roast
2 Tbs wine, red, dry
2 Tbs vinegar, red wine; or balsamic vinegar
1 Tbs onion flakes
1 Tbs Worcestershire sauce
1 Tbs chili powder
1 tsp oregano
1 Tbs crushed red pepper
1 Tbs horseradish
3 Tbs chili sauce
1/2 tsp salt
3 Tbs all-purpose flour
Combine wine, vinegar, onion, Worcestershire, chili powder, marjoram, and pepper seasoning in large plastic food-storage bag. Add beef; push out air; and seal. Marinate refrigerated for at least 4 hours or overnight, turning bag frequently to distribute marinade.
To grill, remove roast, and wrap tightly in foil, reserving marinade liquids. Grill covered for 2 hours.
Prepare basting glaze by adding chili sauce, horseradish, and salt to marinade liquids. Uncover roast and baste with glaze and grill for another hour with roast directly on grill rack.
When meat is done, allow resting for 20 minutes then carve onto serving plates. Meanwhile, prepare the gravy sauce by whisking flour into 1/3 cup water and put into saucepan. Add any unused marinade glaze liquids. Simmer, stirring until thickened, about 3 minutes,
Spoon gravy over slices and serve.