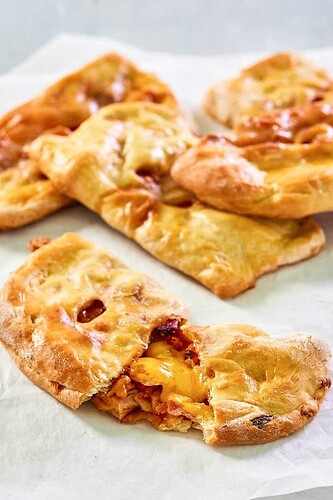 1 pound refrigerated pizza dough or homemade pizza dough
½ – ¾ pound sliced deli ham honey, black forest, or whatever you prefer
8-12 slices cheddar cheese or use shredded cheddar cheese
1 large egg
1 tablespoon water
Preheat oven to 400°F.
Lightly flour a surface to roll out your dough.
Divide the dough into 8 equal portions.
Roll dough into a rectangle.
Chop ham into small pieces.
Break cheese slice in half. Lay the cheese on one side of the dough. Place a slice or two of ham on the cheese.
Fold the dough over to cover the cheese.
Press the edges to seal up the hot pocket the best that you can.
Make the egg wash by combining the egg and water in a small bowl. Whisk the egg and water together well.
Brush the egg white on top of the hot pocket.
Make two slits on the top of the hot pocket.
Spray non-stick spray on two baking sheets.
Place 4 hot pockets on each baking sheet.
Bake for 20 to 25 minutes or until the tops are golden brown.
Remove baking sheets from the oven.
Let the hot pockets set up for 5 minutes on the baking sheet before serving.