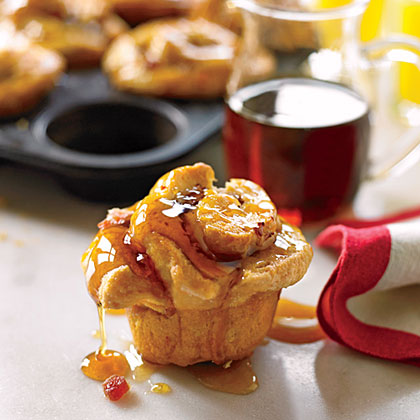 9 ounces deli ham, finely chopped
2 cups (8 oz.) shredded Swiss cheese
2 tablespoons spicy brown mustard
1/2 cup firmly packed light brown sugar
2 (16.3-oz.) cans refrigerated jumbo biscuits
Maple syrup
Preheat oven to 325°. Stir together first 3 ingredients.

Sprinkle brown sugar into a 12-inch square on a clean surface. Arrange biscuits in 4 rows on sugar, covering sugar completely. Pinch biscuits together to form a square. Roll dough to a 12- x 16-inch rectangle (about 1/4 inch thick), pinching dough together as needed. Spread ham-and-cheese mixture over dough. Roll up tightly, starting at 1 long side, pressing brown sugar into dough as you roll. Pinch ends to seal. Cut into 16 slices using a serrated knife. Fit each slice into cups of a lightly greased 24-cup muffin pan. (Dough will extend over tops of cups.)

Bake at 325° for 40 minutes or until golden and centers are completely cooked. Cool on a wire rack 10 minutes. Drizzle with syrup.
To make ahead: Prepare recipe through Step 2, and chill 8 hours. Let stand 10 minutes. Proceed as directed in Step 3.
Note: We tested with Pillsbury Grands! Flaky Layers Original refrigerated biscuits.
Southern Living