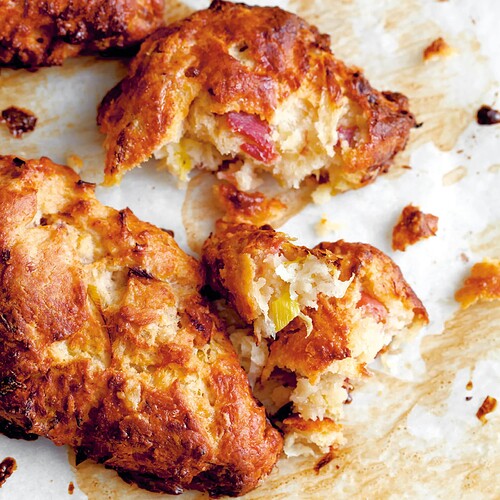 2 leeks
2 Tbsp. unsalted butter
2 Tbsp. olive oil
1 tsp. flaky sea salt (such as Maldon)
A good grind of black pepper
½ cup (200g) Parmesan, grated
3¼ cups (450g) all-purpose flour, plus more for the work surface
2 Tbsp. baking powder
7 Tbsp. cold unsalted butter, cut into cubes
2 cups (500g) plain yogurt
7 oz. (200g) of your favorite ham (Parma, Serrano, Bayonne, or country), cut into bite-size pieces
1 tsp. kosher salt
1 egg, lightly beaten with a little milk or water, for the egg wash
Trim the roots and the tough green stalks and outer layer from the leeks. Cut the leeks in half lengthwise and run under cool water to rinse, peeling back the layers to get inside where the grit is lodged. Slice the leeks crosswise into 1⁄4-inch slices and drop into a bowl of cold water for about 10 minutes. All the dirt will fall to the bottom. Scoop the leeks out (rather than pouring them out with the water) and place in a colander to drain. Pat dry.
In a heavy-bottomed frying pan over medium-low heat, heat the 2 tablespoons of butter and the oil until the butter starts to foam. Add the leeks, flaky sea salt, and black pepper and sauté for about 10 to 15 minutes until soft but without color. When they are cooked, tip them into a bowl and chill in the fridge for about 20 minutes (this can be done the day before).
Line a baking sheet (or other container that can fit into your fridge) with parchment paper.
In a medium bowl, stir together the Parmesan, flour, and baking powder. Cut in the butter with a pastry cutter or the back of a fork (or use a mixer) until crumbly. Add the yogurt, ham, kosher salt, and cooled leeks. Mix quickly to combine and then pat into a cube and place on a lightly floured surface. Pat the dough into a thick log and cut out triangles from the log—you will have about 12. Place the scones on the lined baking sheet (or other container) and put in the fridge to chill until set, about 1 hour.
Preheat the oven to 355°F (320°F convection). Line a large baking sheet with parchment paper, place the chilled scones on it, and brush the scones with the egg wash.
Bake for 25 to 30 minutes until golden.